Artist of the Month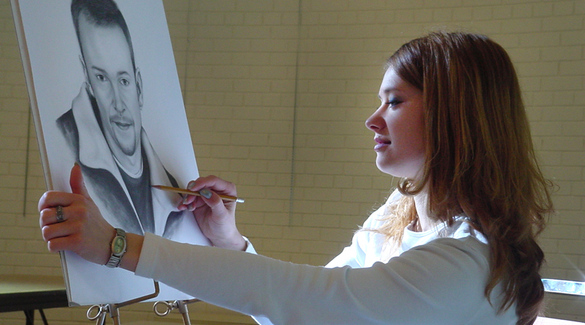 Ljubica Fa-Hardi in her North Battleford studio
Ljubica Fa-Hardi
Born in 1977, Ljubica Fa-Hardi grew up in a village in former Yugoslavia called Ruski Kerestur. She belongs to a Slavic group whose native language is Ruthenian. While in her early teens, Ljubica started taking art lessons and preparing herself for the Academy of Art, but after finishing High School she choose to enter the Architecture department the University of Novi Sad. She interrupted her fourth year of Architectural studies to move to Canada in 2000.
Ljubica's love for art, photography and drawing re-emerged in Canada, augmented by the precision she had learned in architectural studies.
Today, Ljubica lives and works in Battleford, Saskatchewan. She is self-employed as an architect and artist. She also instructs drawing classed though the City of North Battleford, and frequently does portraits on commission.
NACmarket: Ljubica Fa-Hardi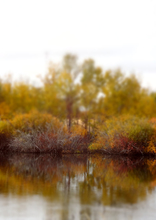 Fall Scene 1
by Artist of the Month Ljubica Fa-Hardi
$75.00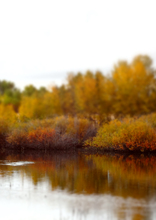 Fall Scene 2
by Artist of the Month Ljubica Fa-Hardi
$75.00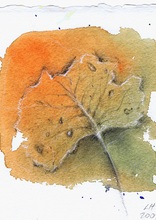 Leaf 1
by Artist of the Month Ljubica Fa-Hardi
$175.00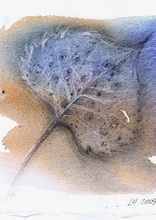 Leaf 2
by Artist of the Month Ljubica Fa-Hardi
$175.00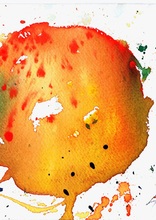 Mark 1
by Artist of the Month Ljubica Fa-Hardi
$175.00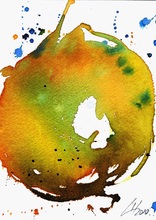 Mark 2
by Artist of the Month Ljubica Fa-Hardi
$175.00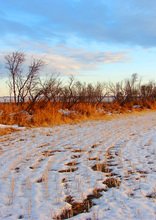 Winter Scene 1
by Artist of the Month Ljubica Fa-Hardi
$75.00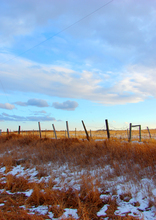 Winter Scene 2
by Artist of the Month Ljubica Fa-Hardi
$75.00
Interview
How did you come be living in North Battleford?
My parents, my brother and I moved to Canada in 2000 from Ruski Kerestur, former Yugoslavia (province of Vojvodina) with help from my cousins who immigrated to Canada before us. It took some time to make North Battleford a new home, but everything fell into place nicely and my family and I are very happy to be here. I like the opportunities that this place and Canada in general has to offer.
How did you come to be an artist?
I remember spending a lot of time wondering around as a kid looking for things that would inspire me and give me ideas of what I could make or draw. My favourite was the attic and a lot of dusty things that belonged to my parents and grandparents. Once I found some old windows that had been put away in the attic, so I used them as the frames for my drawings of my Grandmother's old petroleum lamp.
My Mom is very artistic and her artwork had a very strong influence on me. As a kid I would follow every step of hers and try to copy her style of drawing.
One thing after another I guess led to who I am today. It's not something I had set plans for. I just did what I loved to do and felt was right. Luck is a great factor here too – I have a wonderful family and I wouldn't be here without their support.
How would you describe your artwork?
I started to look at my art work as an experimental work. Instead of trying to come up with a masterpiece every time I would sit down do draw. I just want to enjoy the creative process. Working on a drawing feels better than having it completed. I always have a clear and developed idea of what I would like to do, but I am open to the unexpected, something I can come up with at the last minute. It's fun – art is about relaxing. Being in a creative mood is wonderful – it makes my whole world look great. I love that feeling and I try to feel this way as often as possible.
What artists and others have influenced you?
When I was a kid my only influence pretty much was my Mom. Later, during my studies in Novi Sad I was fortunate enough to work with the well-known illustrator Ljubomir Sopka. When I moved to Canada I was pleased to meet Dean Bauche and his friendship means the world to me. He was the one who introduced me to Andrew Wyeth. The first book I borrowed was "The Helga Pictures". I am also very fond of the work of Charles Reid and Mary Whyte. Drawings by children fascinate me very much – they are free, spontaneous, they say a lot, yet they are so simple – it is amazing.
What experiences inform your work? Has studying architecture influenced your art-making?
It definitely did. Until not that long ago I didn't even realized how much I look for inspiration in buildings, especially old ones, and their parts like bricks, aged wood, doors, doorknobs, windows, gates, sidewalk. Bricks are the main building material back home – it comes in different colours, sizes and there are so many different ways you can put them together. Brick walls and sidewalks age gracefully – they get moss over time and make wonderful art pieces.
During the architectural studies I did tons of hand drawings – we were probably the last generation of students who had to do all the projects by hand. Our professor, Ranko Radovic, used to tell us students that if we can draw it by hand we will be able to draw in on a computer. He was right. I think it would be much harder to do it the other way around. The computer is a great tool – I use it now non-stop for my drafting, but the feeling I get from drawing and painting by hand is priceless.
How has being from the former Yugoslavia and now living in North Battleford shaped you as an artist?
I truly believe that everything happens for a reason. I went through a lot of different stages. Some of them were harder than the others (the time when I had to leave my relatives and friends behind for a better life in Canada was difficult). All of the stages were very good opportunities for me to explore my soul, my existence, my experience, the world, life… Everything has meaning and purpose, and the best way to express my discoveries is art. In art we can find peace, harmony, connections with other people who feel the same way. I try to mix past and present and two different cultures together in my artwork.
What have you found to be the best and the worst parts of being an artist?
The best part of art is that it is a great escape from everyday life. It is like a small, mysterious, imaginary fairytale land that is all yours and you have complete control over it unlike the real world. I am very grateful that I discovered mine.
There are many different tools that we can use in creating art – but the main thing is to know how to and when to use them. This is what happened to me: for example, photographs are great discovery, but for awhile I relied on my reference photos too much when I worked on portraits and I regret doing that. I have wonderful memories of drawing from live models when I was much younger: my grandparents, my neighbours, friends. I cherish the moments I spend with them – they were very emotional for me. The feeling of working from photos is not the same. I knew that all the time and still somehow at some point I forgot about that and started drawing from photos more and more. The quality of time when I draw from life is better, there is more room for spontaneous lines, enjoying the moment and preserving it on the paper. To me it is not just about what I draw it's about everything else that is happening around me while I draw.
Tell us more about your photography – how does that fit into your interests and your body of work?
Even when I am very busy drafting I keep my eyes open for ideas for my art work – when I go for a walk with my family, in the park, in our backyard, even when I am cooking. When I see something I like I "make a sketch" with my camera. Taking photos for me is the fast way to satisfy my soul when I don't have time to sit down and draw or paint. The numerous photos I took in my home town resulted from the limited time of our vacation and the millions of wonderful things that I saw and wanted to document.
What are your own expectations for your work and your career: your goals and your ideas of what lies ahead?
I am happy where I am right now – the work on architectural design gives me lots of pleasure and financial stability and the time to work on my art. I get to stay with my kids as well and get them to be involved in some projects (my son is 10 and my daughter is 8 and I would like them to grow up in a creative environment). Things were not always like this but it is what I always dreamed of. I hope everything stays this way. It would make me even happier if I would spend more time with other artists, get more involved in art retreats, gallery exhibitions and so on, so I am working on that.
Ljubica Fa-Hardi
Born:

1977.

Resides:

North Battleford, SK

Genre:

Abstract, Children, Landscape, Portrait

Mediums:

Drawing, Photography, Watercolour
Past Artists of the Month
Connect With Us