Artist of the Month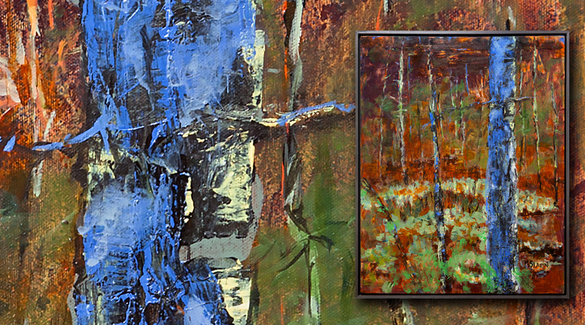 Kathleen Slavin
Saskatchewan Network for Art Collecting is pleased to feature Kathleen Slavin as a featured artist.
Kathleen was born in Belleville, Ontario, and after graduating with a degree in Art History from Ottawa's Carlton University, she continued her art training with classes at the University of Saskatchewan, in Saskatoon. She has also participated in several Emma Lake workshops since 1996, and has studied with such notable artists as Wynona Mulcaster, David Alexander, Catherine Perehudoff, and Degen Lindner.
Kathleen does much of her painting in the open air, with current subjects often being the Saskatchewan boreal forest at Weyakwin Lake and Emma Lake, the forests of Ontario, and market and garden scenes within Saskatoon.
"My forest subjects are mainly trees and water," Kathleen says, "exploring the altered mirror image of light and objects on water, the fragility of the interface of land and water, and juxtaposition of above and below, sky and earth, on and under water, light and shadow."
Slavin has participated in many group shows, and had solo shows at Rouge Gallery (Saskatoon), McIntyre Gallery (Regina), Art and All That Jazz (Saskatoon) and the Saskatoon Public Library. Her work can be found in many corporate and public collections, including SGI, Hilton Hotels, and the City of Regina.
Below are some of Kathleen's works available for purchase through our NACmarket, and an interview with Kathleen from October, 2016.

NACmarket: Kathleen Slavin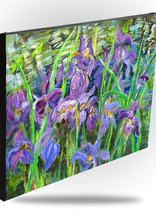 Swirl
by Kathleen Slavin
$775.00
Interview
How did you come to be an artist?

I have always made things. I studied art history in university and looked at art. In mid-life I began to take art classes in the community, from Extension Division at the university, and at Emma Lake and started seriously painting.

How would you describe your artwork, and the techniques you employ in your paintings?

My first love as a painter is the countless possible processes and tools for applying paint to a surface. I work mainly in acrylics and oils in the studio and travel with watercolour. My work is expressionistic in style, and aims to reconcile the tensions created by the juxtaposition of abstract and representational elements.

What inspires your art-making?

Living in country with dramatic seasonal variation has directed the inspiration and location of my work. In the summer I paint in the boreal forest and in my garden. In the winter I create in my studio and travel when I can for the gathering of foreign images of markets and warmth.

What artists (and others) have influenced you?

Participating for several years in classes, residencies and the Artists Workshops at Emma Lake Kenderdine Campus I was introduced to the work and benefitted from the critique of inspiring guest artists including Elizabeth McIntosh, David Alexander, Kim Dorland, Monica Tapp, Lorna Russell, Wynona Mulcaster, Degen Lindner. The workshop participants included established artists from across Canada. In different ways I was influenced by all of these contacts: a substantive critique, a passing comment, my observation of their work, an artist's talk, a casual discussion.

Are there some other Saskatchewan artists whose work you admire?

There are Saskatchewan artists whose work I particularly admire, a few of whom are: Inger DeCoursey, Nancy Lowry, Cameron Forbes, Jonathan Forrest, George Glenn, Mel Bolen, David Garneau, Dorothy Knowles, Lee Brady.

How has living in Saskatchewan influenced your work?

I was born in Ontario, did formal education in Ottawa (B.A. Art History and B.Ed.) and in Saskatoon (M.Ed) where I have lived and worked over half of my life. I have family roots in Saskatchewan that extend more than 100 years which motivated me to visually explore this land.

What are the worst and the best parts of being an artist?

Occasionally a painting arrives as if coming from a place within the artist that was not previously discovered. This event is pure joy. But much painting is hard work that is imperative and torturous -- which mark or colour will best follow the previous one? And the necessary business end of art is time and ego consuming.
Kathleen Slavin
Born:

1947.

Resides:

Saskatoon, SK

Mediums:

Acrylic, Oil Painting, Watercolour
Past Artists of the Month
Connect With Us