Artist of the Month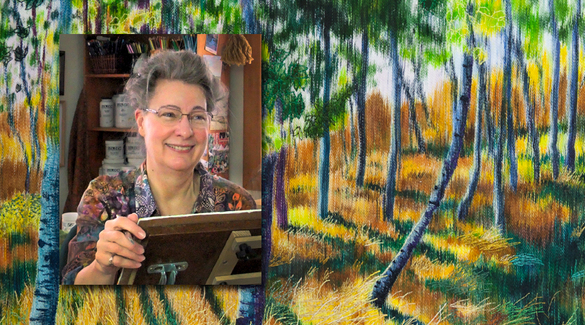 Jane A. Evans
Jane A. Evans
Saskatchewan NAC is very pleased to feature Grandora artist Jane A. Evans as a Featured Artist.

Jane was born in 1946 in Saint Paul, Minnesota, USA, and came to Saskatchewan in 1972, taking Fine Arts classes at the University of Saskatchewan in Saskatoon in 1972 and '73, and beginning to exhibit her fibre art widely from the mid 1970's onward.

Exhibitions have included many Saskatchewan Craft Council "Dimensions" tours, several Handweavers Guild of America exhibitions, and other curated exhibitions such as A Show of Hands Contemporary Craft Gallery (Toronto, 1999). Jane's solo shows have included Saskatchewan Craft Council Gallery (Saskatoon, 1995), TextileContexT Studio (Vancouver, BC, 2002) and McIntyre Gallery (Regina, 2009 and 2012).

In The Craft Factor magazine in 2002, writer Janet Collins stated, "Evans' work defies the conventional labels of craft and fibrework. A combination of painting, weaving and embroidery creates a landscape that exudes a depth rarely achieved in painted canvases."

Jane is considered a Master Weaver, has taught weaving throughout North America, and has been nominated for two of Canada's most prestigious awards in craft, the Saidye Bronfman Award for Excellence and the Jean A. Chalmers National Craft Award. Her work can be found in the permanent collections of the Saskatchewan Arts Board, Saskatchewan Craft Council, City of Regina, City of North Battleford, and numerous private and corporate collections throughout North America.

In 2012 Jane transitioned from fibre art to working in acrylic paints, while maintaining her focus on the tranquility of nature. Often these paintings included layers of collaged papers, gels and pastes, adding perceptible surfaces and textures to the pieces reminiscent of Jane's fibre landscapes.

Jane continues to live and work in Grandora, near Saskatoon, Saskatchewan.

Below are some examples of Jane's work currently available for purchase through our NACmarket, and an interview from February 2015.
NACmarket: Jane A. Evans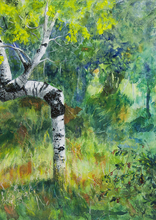 Bent Poplar Tree
by Jane A. Evans
$660.00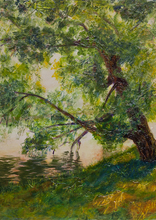 Black Willow, Sunset
by Jane A. Evans
$540.00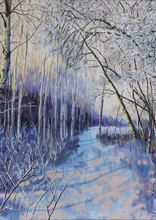 Frost at Sunrise
by Jane A. Evans
$950.00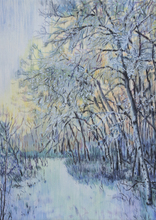 Frosty Daybreak
by Jane A. Evans
$1100.00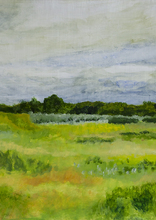 Late Afternoon Rain Sky
by Jane A. Evans
$540.00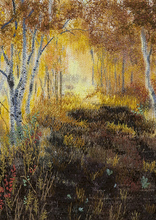 Sparkling Sunrise
by Jane A. Evans
$950.00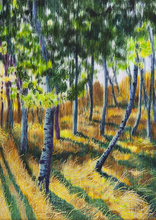 Sunset Patterns
by Jane A. Evans
$1000.00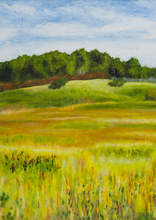 The First Hill
by Jane A. Evans
$540.00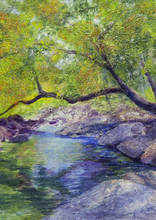 Tree and Rocky Shore
by Jane A. Evans
$540.00
Interview
How did you come to be an artist?

Throughout my youth I made images and objects in many media, and was encouraged to enjoy that by my family and teachers. However, I needed a job with income, so I became an elementary school teacher in Minneapolis for several years and helped my husband finish his university training.

We moved to Victoria, BC, in 1971, and I had a chance to explore an interest in weaving along with some non-academic art classes. The following year we moved to Saskatoon, where I plunged deeply into a self-designed study of weaving. I was invited to join the fledgling Shoestring Gallery Artists' Coop (now AKA) as a fibre artist, began teaching weaving classes, and made weaving my profession.

From 1971 until 2012 my public medium was fibre art. The most recent 20 years of that time I primarily made woven landscape pictures. These merged weaving, painting, and embroidery for their imagery. As with most pictorial work, drawings and rough paintings were part of the preparatory steps.

In 2012 I transitioned from fibre art, which had incorporated textile paints, to painting with acrylic paints. This met a growing need to be able to express particular effects in a picture, effects that would have been inconsistent with and forced upon a textile basis.

How would you describe your artwork, and your technique in acrylic and in fibre art.

Whether in threads or paints, I want to explore the serenity of natural, enveloping places. I try to make pieces that are calm, evocative, and inviting, somewhere a person could sit and think, or just sit. I often do "tree portraits," because the anecdotal character of individual trees can be fascinating. My pictures include no people, human artifacts, or anything with eyes. As humans we like to look at ourselves and our manufactured objects, building stories around what we think we see. For me this conflicts with my purpose in painting.

In both fibre and acrylics, my artworks have similar characteristics. Their subject is the tranquil ambiance and intricate patterns in nature. They invite viewing from both near and far. Up close they offer colourful, textured surfaces with interplays of shadows, while at a distance there is cohesion to the imagery which creates depth and breaks the picture plane. They all are 3-dimensional, tactile invitations for the eye, the hand, and emotions.

How did you start creating work in your particular style?

Starting in 1972 I intensely researched aspects of weaving. I began writing a book about the unusual weaves used in Latvia prior to WWII, and in 1991 A Joy Forever, Latvian Weaving: Traditional and Modified Uses was finally published.

Writing the book was excruciating work but changed my life in positive ways. I encountered information new to North American weavers which I then taught all over North America and, most importantly, adapted to my own goals. I learned how to build my own fabric structures, eventually elaborating my results into woven landscape pictures. Why landscapes? Exhausted after writing the book, in 1992 I decided it was time to do what I most wanted to do with my life: make landscapes.

The fibre landscapes began by painting threads on the loom, then weaving them and including textured threads, then taking that fabric off the loom and embroidering on it for details that could not be woven into the cloth. After 20 years of this my creative heart told me I needed to expand my techniques beyond textiles. So for the past several years I have been concentrated on painting, reading about painters and painting methods, and taking some very technical workshops on acrylic paints and painting. I need an understanding of technical details and skills, along with tactile involvement in my work. That is no surprise coming from the craftsmanship of weaving. In 2014 I began including collaged oriental papers as the ground on which to paint, along with sculptural acrylic gels and pastes for textures. Some of my pieces have a fine, spider-web-like fabric embedded in the acrylic ground covering the canvas, to create an overall random texture of shadows.

My woven landscapes are often described as painterly. Recently a friend noted that my paintings have a textile sensibility. Over time the materials and goals have formed my style, which continues to evolve.

What artists (and others) have influenced you?

There have been a number of appreciated influences from people other than the famous artists who thrill our souls. I hesitate to name some because I will neglect others, but here are a few.

Some of my best foundations came from the man who taught my 7th and 8th grade art classes. Mr. John Checkis showed me how to enjoy exploring art mediums and gave me encouragement like no one, except my husband, did until decades later. Thanks to the internet I located that teacher last year, over 50 years since last we met. I wrote and thanked him, and was pleased to hear back from him, still encouraging me.

In 1976 Lea Collins, then head of the Saskatchewan Arts Board, received my application for grant assistance. Her reply, with the cheque, simply was along the lines of "I was wondering when we would hear from you." That vote of confidence and acceptance helped me become a professional fibre artist.

I thought I could guide my recent transition from textiles to paints on my own, but change can be sticky. Lately the mentoring influence of Laureen Marchand, herself a respected Saskatchewan painter, has shown me that with help we sometimes can grow faster and better than alone. She has offered valuable insights, options, and most importantly encouragement so I "get out of the work's way." That is influence of a very direct and practical kind.

In the textile art world I greatly admire and have been influenced by the fabulous, inventive work of Helena Hernmarck.

Some of the many painters from whom I have tried to learn are Cezanne, John Constable, Gainsborough, and John F. Carlson (author of Carlson's Guide to Landscape Painting). Renoir in his mid-career work is a great favourite of mine. Originally a porcelain painter, he respected and required craftsmanship, plus he developed the skill of using a light background to illuminate through his colours. Both those features fit right in with my own inclinations.

Are there some other Saskatchewan artists whose work you admire?

Dorothy Knowles, Stan Day, Eli Bornstein, and many other people here all have my admiration.

How has living in Saskatchewan and in Grandora influenced your work?

The small population of this large province is often noted for its unifying and sharing culture in the arts. Certainly I have always felt included and encouraged in my artistic efforts. Art is respected and alive here.

Living near Saskatoon I easily have the benefits of the city plus the peace of woods and meadows. That is one reason we chose to live here. There are few places in Canada that can offer such luxury.

What are the worst and the best parts of being an artist?

Everything has difficulties. When trying to make art they include: Life's many intrusions; the frustration of not quite making the piece looking like I wish it would; acrylic paints freezing outdoors in the winter; the business parts of being self-employed; the dis-connect of creating 3-dimensional work which is frequently only seen on a 2-dimensional screen.

The joys of being an artist are numerous, such as: prowling the aisles of an art supply store; being tantalized with promises by the first few paint strokes on a panel; looking at other art works and getting lost in their fascination; receiving a compliment on a piece of work; experimenting with new ideas; sitting outdoors and being the middle-hand between the wonderful sights and the growing masses of colour on the canvas.

For me two of the highlights of being an artist are, first, the process of creating an image with emotional content, and, second, never having or wanting to retire.
Jane A. Evans
Born:

1946. Saint Paul, Minnesota US

Resides:

Grandora, SK

Mediums:

Acrylic, Textiles
Past Artists of the Month
Connect With Us