Artist of the Month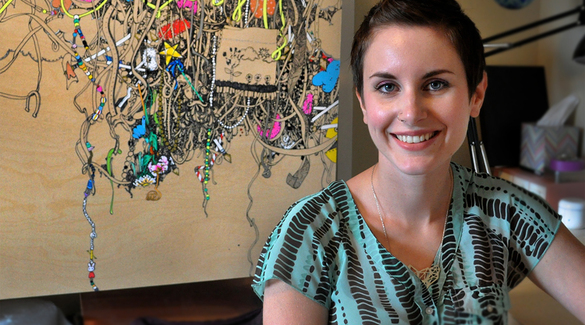 Terri Lemire in her Saskatoon studio, 2013
Terri Lemire
NAC is pleased to feature Saskatoon artist Terri Lemire as our Featured Artist for August 2013. Terri was born in Estevan, Saskatchewan, in 1984, but grew up in Regina after moving there at an early age. She began drawing as a child and later studied painting, drawing and printmaking at the University of Regina, receiving a Bachelor of Fine Arts degree in 2007.
Terri draws and paints in watercolour and oils, often incorporating vibrant colour. Among Terri's recent work is a series of abstract paintings depicting the interior of her closet.
Terri's work has been exhibited at the University of Regina's Fifth Parallel Gallery, Mysteria Gallery (in Regina) and at galleries in Saskatoon and Winnipeg.
NACmarket: Terri Lemire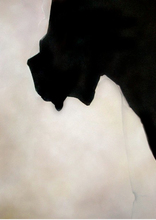 3 Funerals and a Wedding
by Artist of the Month Terri Lemire
$1185.00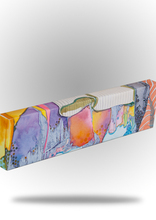 Resolution Kept
by Artist of the Month Terri Lemire
$285.00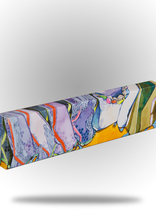 Tiny Bubbles
by Artist of the Month Terri Lemire
$285.00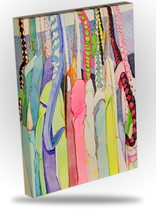 Untitled Closet Study VI
by Artist of the Month Terri Lemire
$425.00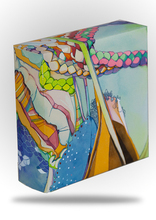 Untitled Closet Study VII
by Artist of the Month Terri Lemire
$235.00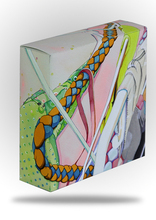 Untitled Closet Study VIII
by Artist of the Month Terri Lemire
$235.00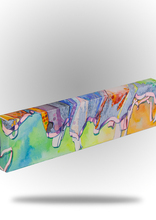 Untitled Closet Study XV
by Artist of the Month Terri Lemire
$285.00
Interview
How did you come to be an artist?
I had started drawing at a very young age, and art was always my best subject. When I was in grade twelve, everyone had to sit down and talk to our high school's career councilor. I was thinking about applying to the BFA program, but I wasn't decided. My councilor told me this was a terrible idea, and that there was no possible way for me to make a living as an artist.
I remember feeling a little insulted after that meeting. But my councilor's poor attitude convinced me to apply to the BFA program after all.
What inspires your art-making?
I am frequently inspired by other artists. When I see something very fresh and beautifully made, I always come away pumped up, ready to make art, and to improve myself. The work I'm most inspired by is often illustration, concept art, and sometimes movies. Recently, I've been in contact with a lot of kid-related media, and that's definitely worming its way in and getting me motivated.
What artists (and others) have influenced you?
My biggest influence has always been Marc Chagall, ever since high school. I love his colors, and his wonderful landscapes. His work is absolutely beautiful. He made me want to become an artist. This spring I rediscovered Ernest Caivano, one of my favourites from my time in university. His drawings tell such interesting stories, which is something I'm trying to be more conscious of doing myself.
Who are some other Saskatchewan artists whose work you admire?
I particularly love Yuka Yamaguchi - her work is so bizarre, playful, and beautifully rendered. I also admire the work of Ian Rawlinson, Marc Courtemanche, Jack Cowin, Marie Lannoo, Kathleen Brady, Graeme Patterson, and Carole Epp. There are so many wonderful Saskatchewan artists, I could go on and on.
How would you describe your work?
In the past, I focused on creating vibrant, abstract paintings from photographic stills of my closet's interior. They were really fun, a little dark, and extremely detail-orientated. More recently, I've been working on some ink line drawings that I started shortly after becoming a mother. They're whimsical and fun, but they also represent for me a darker side of motherhood that I've come to know quite well.
How did you start depicting the interior of your closet?
I have a huge love of drapery, which initially started with shower curtains, but eventually led me to my own closet. It's a wonderful subject for me because I have an emotional connection to every article of clothing I own, and that keeps me really invested in what I'm doing.
What determines, for you, whether you will explore a subject in watercolour or in oil?
It's pretty clear cut for me. Oils are all about layering the paint, and watercolour is great when I want to have a lot of detail.
What are the best and the worst parts of being an artist?
The best thing is being my own boss, and doing exactly what I want and love to do. The worst part (and I think any young artist would tell you this) is the financial insecurity. It's difficult to work a full or part-time job and find time to make art. When you throw children into the mix, making art seems to get relegated to the back burner for a while, and it's hard to get back into the swing of things. When you find yourself with an entire evening to yourself, it can be difficult to make art the priority amidst all the other parts of life that have fallen behind.
Do you bring particular ideas, themes or philosophies to your work?
If there's any philosophy I hold on to, it's that making art should be fun and make me happy, even if the subject matter is dark. I've always preferred to focus on what comes naturally, and have tried to avoid over-thinking what I'm doing. In fact, my experience has shown time and time again that over-thinking leads to bad, confused artwork that I'm never happy with. It's better to just go with the flow.
How would you describe your strategy for continuing in a career as a visual artist?
My strategy is just to keep making work and evolving as an artist. Not everything I've made has been well received, but I've done my best to accept the criticism and move onto new work that doesn't cling too tightly to the old. I occasionally take a month or so off from making work, but I always come back feeling refreshed and ready to start again.
How has living in Saskatchewan shaped you as an artist?
I sometimes wonder if the cold winters have had anything to do with shaping me. As a child, being indoors for months at a time can be so boring if you have nothing to do, but that wasn't usually a problem for me: if I wasn't drawing, I was reading, watching movies or looking at art online. Now, I still find that I get much more work done during the winter months than the summer. Perhaps I would be a much more productive artist if I lived in a colder climate year round!
Terri Lemire
Born:

1984. Estevan, SK

Resides:

Saskatoon, SK

Genre:

Abstract, Still Life

Mediums:

Drawing, Mixed Media, Oil Painting, Watercolour

Galleries: Mata Gallery (Regina)
Past Artists of the Month
Connect With Us