NAC Articles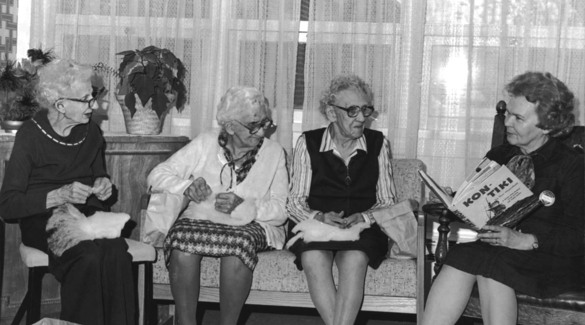 Thelma Pepper reading to care home residents
Fall 2011
by NAC contributor Jess Boyachek

Saskatoon-based photographer Thelma Pepper shares her thoughts on her career, photography techniques, and body of work as her new book, Human Touch: Portraits of Strength, Courage and Dignity is released.
On early exposure to photography:
My father and grandfather were both serious amateur photographers. And so I was kind of brought up in the darkroom with my dad, and we had the airforce base just a mile from our home, a Commonwealth air training base, so photographers from all over the world were there at the base, and they found our darkroom. So it was kind of exciting that so many of these photographers came to our home and we would be discussing what makes a fine print....So that was the beginning. I was only a teenager.
On buying her first camera:

One of the guys from the air base, after the war he stayed on in Kingston...It was about 1980 that I went down and he was selling his camera. His Rolleiflex camera. And it was two thousand dollars, and that was quite a bit then. And oh, I wanted it — it was like my dad's. It was exactly like my dad's, except it was a little better because it had this exposure metre. And I had just got a little bit of money — my mom had just died, so I got a little bit of money. And I bought this camera, and I never told my husband how much I paid for it...I don't know whether that's good or bad!

All those panoramas were taken with this Rolleiflex camera. And I could put it on my tripod and just twirl it around and do the panoramas. So I was excited.
On beginning her first photography project:

Once my children left home, I got my own camera, even though we had a couple. I thought, "I wanted one of my own." So I started out. And I just loved reading to my children, so when they left, I had to read to somebody, so I really enjoyed reading to these folks at a long-term care home. And it wasn't long before I wasn't reading to them, but they were telling me their life stories. And it was unbelievable. I just couldn't believe what these women had gone through.

And so, I didn't start out to do a project. I just started out meeting these people and loving their stories.

I used not only the portraits of these people but also panoramas — a French photographer had an exhibition here doing panoramas, and I was so excited about that, that I had to try it. So the exhibition was portraits, panoramas, and the voice. I taped their stories. Some of them were about two hours long. But I condensed it into about ten minutes.
On The Photographers' Gallery (Saskatoon):

I joined the Photographers' Gallery, and they liked what I was doing, so they said, "Just continue. Don't give up." I went there when I was in my late 50s, and there wasn't anybody near my age. I mean, they were all young people. Yet the director, he just welcomed me in and just made me feel so at home. I think that's why, you know, if I hadn't had that the Photographers' Gallery, I doubt if I would have continued.

The thing I loved was their library, and the fact that they had these photographers, good ones, from all across Canada and even one from Scotland that chose my work to be shown there, and it was just a wonderful place. I find it amazing that you could have these great photographers come and critique your work.

Montreal photographer Sam Tata came to the Photographers' Gallery and we were lined up to show our work. The first two young guys, he said, "I don't see anything here. You'd better get back to the darkroom." And I was scared to death. And then he saw my portraits and he said, "I don't see any tension here. You should have an exhibition." He must have been able to sense that these people were at ease with me. And I said, that meant more to me than winning a million dollars.
On working with her subjects:

Well, it was amazing how they just — I think it changed their lives. They were really happy to do this. And I was a good listener, I think. And you know, I got to know them and before I ever photographed. I got to know them really well and heard their stories, and then — I think they trusted me — and I asked if I could photograph them. And then I'd maybe just be sitting on the floor with my cable release, and I'd be sort of in an intimate conversation with them, or if I had them talking to somebody else. And then when I got the expression I wanted, I pushed the button.

I wanted them to be positive pictures. And one woman said, "You know, I've never liked a photograph of myself. But I rather like this one. Would you mind making me ten copies?" And I was thrilled.

I think they trusted me. And I think that was important. They didn't mind telling me. And they wanted me to know — I think this is important. They wanted me to know they were telling me the truth. They weren't making up anything. That came out several times. "We're telling you the truth."
On her new book: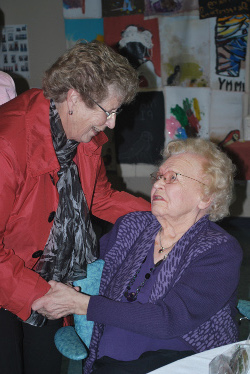 Thelma Pepper (right) at book launch, October 2011
I used to sometimes be asked to go and give a little talk, and especially in the smaller places, I was always surprised, that there were these young people there. I don't mean teenagers; I mean really young. And this grade two guy said to me, after one of the talks, "I didn't know old people could be happy. Why, they're as happy as we are." And I thought, "Gee, he saw in this, in these portraits, a happiness." I was hoping that the book would show some of those things that make people happy. Dorothea Lange, she said, "Anyone can take a picture of a car accident or a house burning or even a sunset." But she wanted things in her photographs that said something about a person that was positive. So that's what I was trying to do. I wanted to get to know [the subjects] and show them. Yeah, most of them were poor, that's for sure, but they had these sterling inner qualities of strength and dignity and passion and spirit.
Read NAC's feature article on Thelma Pepper.
---
Jess Boyachek is a Regina-based writer and researcher. Her writing has appeared in University of Regina publications, in Splice magazine, and on the web. In 2011, she was a participant in the Saskatchewan Writers' Guild's Mentorship Program.
November 23, 2011
Featured Articles
Connect With Us