NAC Articles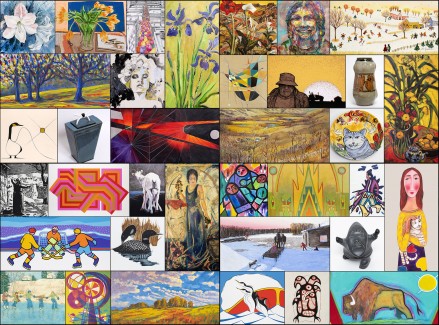 How Online Auctions Work and Stategies to Win
Whether you're new to online art auctions, or experienced but looking for new strategies to win the perfect piece for the best price, this article will provide an overview of how online art auctions work and how to participate.
HOW ONLINE ART AUCTIONS WORK
Over the past decade online art auctions have grown in numbers and popularity. Bidding is available through websites and mobile apps, and can run for a few days or for several weeks. The auctions provide photos of the individual artworks on offer, and descriptions, ideally including dimensions, medium, title, year and the artist's name, along with a reference to the piece's condition. Below are some features and terms associated with online art auctions.
CONDITION - Auctions are part of the secondary art market, consisting of previously owned artworks being offered for sale by collectors, estates, businesses and institutions. Consequently some of the artworks will have evidence of wear, which should be referenced in the description or in a separate Condition section for each piece. Sometimes specific condition issues are described (and photographed) like a tear in a canvas or water damage, and often a general term is used to sum up the condition. For instance, for auctions hosted by Saskatchewan Network for Art Collecting (SKNAC) the general condition terms are: Excellent, Very Good, Good, Fair, and Poor. Always, photographs presented on the auction site should give you a very good understanding of the appearance of the piece and of its condition, as care is taken to create accurate photographs.
ESTIMATED VALUE - It is an art auction convention for the auctioneer to indicate an estimated value for each Lot, expressed as a range. This is arrived at by researching what comparable artworks of similar size by the same artist have sold for at recent auctions as well as what current prices are at commercial galleries.
RESERVE PRICES - There was a time when many art auctions used secret reserve prices (the minimum bid for which a Lot would sell). So an artwork might have received several bids but still remained unsold because bidding had not reached the reserve amount. Today, however, almost no online art auctions use hidden reserve prices. Instead, the opening bid is the reserve price, and an artwork can be won for the opening bid (and this is the case for SKNAC auctions).
CLOSING TIME - Almost all online art auctions have a staggered closing time. That is, not all Lots close at the same time; instead Lots close one after another. For SKNAC auctions, usually the first Lot in our auctions closes at 1:00 pm Saskatchewan time, and each subsequent Lot closes one minute later. So Lot #30 would close thirty minutes after Lot #1. To help keep track of the closing times, on the final day the indicated closing time for a particular Lot will change from a set time to a countdown indicating the hours/minutes/seconds remaining before bidding for the Lot ends. Also, for all online auctions, when a bid is placed for a Lot in the final few minutes, the remaining time will extend for just that particular Lot, usually by three minutes, in order to give other bidders time to respond.
BID INCREMENTS increase in stages as the dollar value climbs. For instance, SKNAC bid increments start at $2, but when bidding reaches $50 the increment changes to $5, then at $100 it changes to $10, and at $200 it changes to $20, at $600 it changes to $50, and so on. The bid increments will be indicated on the auction site, and when you are placing a bid, the system will inform you of what the next available bid is, and what higher amounts are available if you want to place a higher maximum bid.
BUYER'S PREMIUM - Another convention of auctions is the Buyer's Premium. This is an amount which is added to the winning bid, like an auction house surcharge, to comprise the final price of an artwork. Each auction house sets its own buyer's premium, generally between 18% and 30% of the winning bid. For SKNAC auctions the buyer's premium is 20%. So an artwork which is won for a final bid of $100 will have a buyer's premium of $20 added, for a total price of $120.
INVOICING AND PAYING - Invoices are generated by the auction house following an auction and emailed to winning bidders. These will include the appropriate taxes. For SKNAC art auctions, purchases are subject to GST of 5% in Canada, and 6% PST for lots which remain in Saskatchewan (but the first $300 of cost for previously owned artwork is PST exempt). Purchases shipped outside of Canada are not subject to tax. Most auction houses accept payment in cash, cheque or bank etransfer, with credit card and PayPal use often entailing a fee on the invoice total (SKNAC adds 3%).
HOW TO BID
MOST BIDS for online art auctions are placed via the online platforms. When placing bids, you can chose to place the next available bid, or if you are confident that you're willing to pay a certain amount for a piece, you can place a maximum bid and the system will bid on your behalf one bid increment at a time if and only if there are competing bids. In either case, if you are outbid the system will send you an email notification.
ABSENTEE BIDDING - Alternatively, you can call or email the auction house to learn how best to place bids without using the online platform. You should be able to place bids via email, phone or text message.
REGISTER EARLY. If it's your first time bidding with the auction house be sure to complete your registration early, or log in early if you have bid before, so that any technical issues can be resolved before the frantic final day.
VIEW THE AUCTION EARLY in order to provide yourself with time to research the pieces which have caught your eye. For instance, you can search online to learn more about an artist, or to learn the prices for the artist's work at commercial art galleries and on eBay, Etsy, etc, and what the winning bids have been at past online auctions.
With lead time you can also contact the auctioneer with a question about an individual artwork, or request additional photographs. You might have concerns about the condition of a piece if there is a reference to an issue in the description or if something appears in the photographs. If you're in the same city as the auction house, you might be able to view the artworks in person. Usually individual artworks or a selection of artworks can be viewed by appointment, and sometimes auctions have live preview events.
USE THE "SAVE" OR "WATCH" FEATURE - If you're not ready to place bids yet, you can flag or save artworks you would like to keep in mind or return to. As a strategy, some bidders like to add artworks of interest to their flagged list and not place bids until the final day, while others prefer to place bids early in order to stake their claim and dissuade others.
CLOSING TIME - It can get hectic if you are bidding on multiple Lots which are closing at nearly the same time, especially if some get extended because of last second bids. So, as an auction is ending it can be helpful to participate from your Watch or Favourites list or from your Current Bids list, which can be accessed by a "Your Account" tab, or "Your Bids" or such.
REFRESH. REFRESH. REFRESH - Don't assume that you have won if it appears the Lot is closing and you appear to be the high bidder. Refresh. Different browsers, apps and devices all function a little differently, and some can develop lags which are often corrected by refreshing, or exiting and returning to the Lot you're watching or to the Your Bids list. Throughout an auction you will receive an email notification if you are outbid on a Lot. However, there can be a delay between when you are outbid and when the email notification arrives to your inbox, so you shouldn't rely upon these notifications in the final minutes of an auction closing.
SHIPPING - Don't forget about shipping costs if participating in an out of town auction. Most auctions use couriers to pack and ship, at the buyer's expense, while some also offer packing in-house for a fee and shipping via Canada Post. For SKNAC auctions, all artworks are located in Regina, SK and are available for pick-up, while we also offer free delivery in Regina on invoices over $200. Plus buyers in Saskatoon can have their artworks delivered directly by SKNAC for a low cost (determined by size, weight and value). For shipping, we can pack in-house and ship via Canada Post nationwide and internationally, or can deliver the artworks to a recognized domestic or international shipper (FedEx, UPS, etc). For especially large artworks it can be economical to have the art delivered by an art delivery service, some of which travel a route in Western Canada while others are nationwide. If an artwork is housed in a frame that doesn't appeal to you, you can ask the auction house to remove the frame and ship the artwork without the frame and glass.
MOST IMPORTANTLY, BUY WHAT YOU LOVE - It can be fun to snap up a deal and interesting to buy art as an investment, but the best advice is simply Buy What You Love. Art connects with us in undefinable ways. When that thumbnail photo on the auction site keeps grabbing your attention, when you click on a particular artwork each time you view the listings, you know that this artwork will enrich your life when it catches your attention again and again in your home or at the office. That's one to compete for. Good luck with your bids!
View current auctions from Saskatchewan Network for Art Collecting
View past auctions from Saskatchewan Network for Art Collecting
Read our article How to Consign Art to Auctions
July 17, 2023
Featured Articles
Connect With Us