Saskatchewan Artist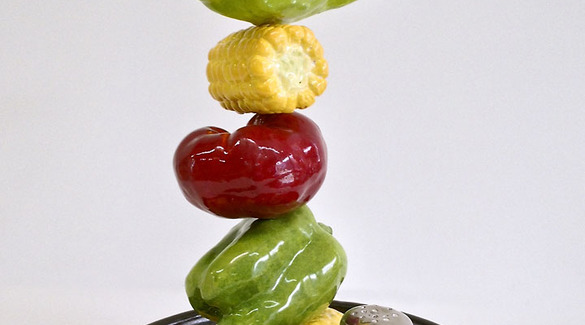 Kebab - 2013 - by Victor Cicansky
Victor Cicansky
Victor Cicansky was born in Regina, Saskatchewan in 1935. He studied education at the University of Saskatchewan and was an elementary school teacher for several years before studying ceramics with Jan Hone in 1964. He continued his university studies in Regina while teaching pottery and sculpture to high school students, and completed a Bachelor of Arts in English and Fine Arts in 1967. From there, he went to the University of California at Davis, where he completed a Master of Fine Arts degree in 1970. Throughout his artistic career, Cicansky has continued to lecture at universities throughout Canada and the United States, (including the Banff School of Fine Art) and he was a member of the Fine Arts faculty of the University of Regina for several years.

Cicansky's bronze and ceramic sculptures and murals, which often explore natural themes, have been widely exhibited. Commissions he has received include several ceramic sculptures for the Government of Saskatchewan (including "The Old Working Class," displayed in Saskatoon, 1978), and "Regina: My World" for The Co-operators Group (Regina, 1980).

Cicansky's work is represented in many museum and corporate collections, including the Mendel Art Gallery (Saskatoon), Montreal Museum of Fine Arts, Saskatchewan Arts Board, National Gallery of Canada, and Museum of Fine Arts (Tokyo).

Cicansky has been awarded the Victoria and Albert Award for Ceramic Sculpture (1967), the California Kingsley Annual Award for sculpture (1969), and the Saskatchewan Order of Merit (1996). In 2007, he received an Honorary Doctorate of Fine Arts from the University of Regina. He was named as a member of the Order of Canada in 2009 in recognition of his contributions as an artist and educator.
Victor Cicansky
Born:

1935. Regina, SK

Resides:

Regina, SK

Mediums:

Ceramics, Sculpture
Connect With Us