Playing the Game
$21.95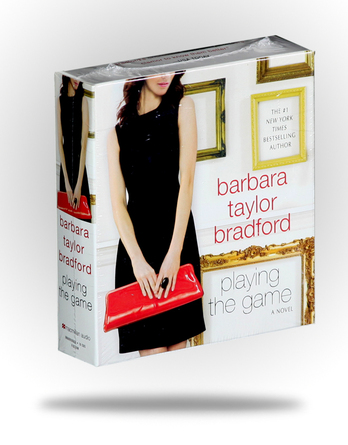 Unabridged Audio on 10 CDs
A novel by Barbara Taylor Bradford, read by Catherine Harvey - 2010
List price is $45.99 CAD
Synopsis:
Annette Remmington, a London art consultant and private dealer, is at the top of her game. She is considered a rising star in the international world of art, and has a roster of wealthy clients who trust her judgment and her business acumen. Her success reaches new heights when a rare and long lost Rembrandt finds its way into her hands, which she restores and sells for top dollar. Called the auction of the year, Annette becomes the most talked about art dealer in the world.
nnette is married to her mentor and personal champion, the much older Marius Remmington. For twenty years, Marius has groomed her into the international art star that she has become, not to mention saving her from a dark and gritty past. She is his pride and joy, and as her best advisor, it's with great care that he hand picks only the best journalist possible to do a profile on his beloved wife in a popular London Sunday newspaper. Jack Chalmers is a bit of a celebrity himself, becoming one of the top journalists of his time. Marius believes only he will be able to capture the true brilliance of his lovely wife. But Marius never intends to put his marriage in jeopardy. How could he have known that the connection between Jack and Annette would ignite so many secrets? And how could he know that Jack would uncover a scandal that could ultimately destroy them all?
Barbara Taylor Bradford does it again in this epic novel of seduction, passion and international intrigue. Playing the game has never been so thrilling.
Related Products