Images I
$275.00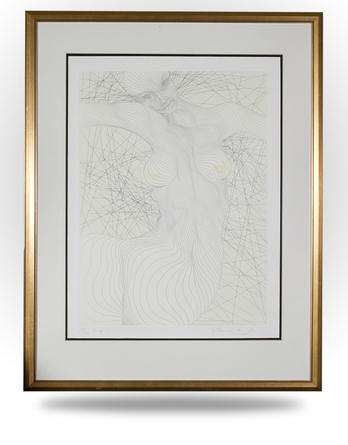 Limited edition print by Moroccan artist Guillaume Azoulay (born Casablanca 1949).
Colour etching on paper - #299/300 - 23.75" x 17.5" - framed - signed, titled and numbered along bottom
Provenance: collection of The Guild Gallery of Artists (Calgary); collection of Dr. Maxwell Lipkind (Calgary); Levis Art Auction (Calgary); current private collection (Regina)
Exhibition history: Nude Saskatchewan 2012 (New Dance Horizons, Nov 2012, Regina)
This item is PST free (previously owned artwork under $300).
Azoulay is renowned as Master of the Line. His work is in many important collections, and at age 29 he became the youngest artist to ever have work accepted into the permanent collection of the Musee du Louvre.
For more information about this artwork and about purchasing and delivery options, contact NAC at market@sknac.ca
NAC item NDSK2012-027
Related Products
Manifest
limited edition print by Michelle Brownridge
$295.00
Images III
Limited edition print by Guillaume Azoulay
$275.00