Introduction to the Art of Chinese Brush Painting
$21.95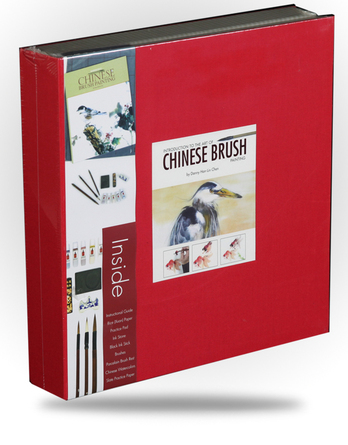 Complete kit, including 64-page book, 5 sheets of rice paper, 1 practice pad, 1 ink stone, 1 black ink stick, 3 brushes, 1 porcelain brush rest, 5 12-ml tubes of traditional Chinese watercolour paints, 1 sheet of reusable slate practice paper.
Kit size is 12" x 10" x 2" - 2011 from Vancouver's SpiceBox Publishing. Regular price is $29.99.
Join internationally acclaimed artist Danny Han-Lin Chen as he guides you on a wonderful journey to discovering Chinese Brush Painting. He has thoughtfully selected 12 beautiful exercises that bridge both traditional and modern subjects and techniques; each lesson is intended to build on the previous one to guide you as you develop the skills you will need to enjoy this medium. A full-color instruction book, and all the supplies needed to finish a project, are included in a fabric-wrapped box.
NAC Item Number: KIT001
Related Products