Everett Baker's Saskatchewan: Portraits of an Era
SOLD OUT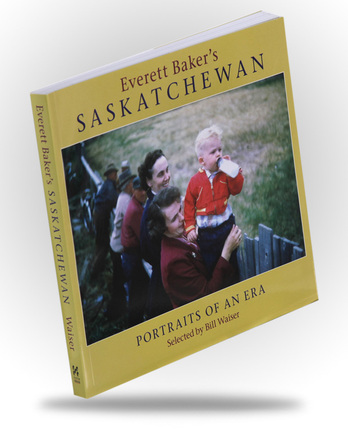 Featuring Saskatchewan Artist(s): Everett Baker
2006, 202 pages, 200 colour photographs
Published by Fitzhenry & Whiteside, Markham, Ontario
Saskatchewan Book Awards Shortlist - Non-Fiction, 2007
If a picture is worth a thousand words, then Everett Baker's photographs of Saskatchewan and its people taken during the 1940s, 50s, and 60s are worth a million!
Unlike the black and white photos that typically document the era, they are as colourful as a flax field in bloom.
Everett Baker's Saskatchewan is a book filled with photos of the province as Baker saw it starting in 1937, when he traveled from town to town as a field man for the Saskatchewan Wheat Pool. With his German-made 35mm Leica camera, Baker took Kodachrome colour slide pictures of the people, towns, and farms he visited, immortalizing a unique chapter in Saskatchewan's history. It was the golden age of the co-operative movement in the province, as well as a time of change with the rise of Tommy Douglas's Co-operative Commonwealth Federation government. The old world was slipping into the shadow of the new, and Baker was there to capture it before it disappeared altogether.
University of Saskatchewan historian Bill Waiser has selected and compiled photographs from Everett Baker's unique vision into the first ever book-form showcase of this exceptional photographer's work.
"Baker's photographic documentation of the province in the mid-20th century is a national treasure," says Waiser. "He set out to photograph the co-operative movement but he did not stop there. During his long days on the road, Baker used his camera to capture the diverse Saskatchewan landscape through the seasons. He coaxed people to pose for him."
In Baker's time, Saskatchewan suffered from severe decline in the international demand for wheat and a prolonged drought. He saw the suffering of refugees. He knew a Saskatchewan that lacked electricity and indoor toilets. Baker documented a lifestyle where seven out of every 10 still lived in a rural setting.
"What is most striking about these images, aside from the richness of their colour and the skillful use of light, are the happy, smiling faces. He could see things like no one else with a camera. He had an uncanny skill to set the scene. He caught people in everyday life and everyday activities and people wanted to have their picture taken by him."
Click here to see a slideshow of some of the photos from Everett Baker's Saskatchewan.
Reviews:
"I think Everett Baker fits into the tradition of social documentary photography that includes Lewis Hines or Alfred Steiglitz. Bill Waiser believes that Baker is a national treasure, and I think Bill Waiser is a national treasure. This book is very important and opens up the visual history of Saskatchewan, in all its beauty."
-- Shelagh Rogers, CBC
"Everett Baker's dedication in documenting the breadth of Saskatchewan is eloquently expressed in this delightful volume. Baker's imagery reflects the obvious love and respect he held in his heart for the people and places of this prairie province."
-- Wes Lafortune, Photo Live
"An intimate look at the kind of province Saskatchewan was in the middle of the last century. It will never be the same again."
-- The Star Phoenix (Saskatchewan)
"Whenever the Leader−Post has run photos from this massive cache of Kodachrome slides − many so bright and crisp they look like they were taken mere days ago − we are amazed at the positive reaction of readers."
-- Regina Leader−Post (SK)
"Everett Baker's Saskatchewan is a solid book of photography and quite the coffee table book for anyone who appreciates the history of Saskatchewan."
-- Midwest Book Review
Everett Baker was born in Blue Earth County, Minnesota in 1893. Upon completing university, the twenty-four-year-old Baker came to Saskatchewan, selling Peoples' Home Library, a series of books filled with home remedies, recipes, medical and veterinary information, as well as other practical material.
He returned home to marry Ruth Hellebo in 1918 and then settled down to farm near Aneroid, Saskatchewan, where the couple had two children. Everett and Ruth sold the farm in 1924 and moved into Aneroid, where he organized and became the first manager of the Aneroid Co-operative. In 1937, he joined the field staff of the Saskatchewan Wheat Pool.
Two years later, Baker purchased his first Leica camera, and event that would lead to his interest in photography, not only as a hobby, but as a mechanism for him to raise awareness of the heritage of the province. From that year until the late 1960s, Baker shot over 10,000 images of the people of Saskatchewan.
In 1981, just weeks before his death, he donated his slides to the Co-operative College of Canada. The collection was in turn acquired by the Saskatchewan History & Folklore Society and is widely regarded as one of the province's photographic treasures.
Bill Waiser has been a member of the department of history at the University of Saskatchewan since 1984. He is the author, coauthor, or co-editor of nine books, including Loyal Till Death: Indians and the North-West Rebellion, which was a 1997 finalist for the Governor General's Literary Award for Nonfiction, andSaskatchewan: A New History, which was named the best book in prairie history in 2005 and awarded the Clio Prize by the Canadian Historical Association.
From 1998 to 2001, Waiser hosted a weekly Saskatchewan history television series, Looking Back - now also a book of the same name. Waiser has served on the council of the Canadian Historical Association and the board of directors of Canada's National History Society.
In 2007 Bill received the honour of election to the Royal Society of Canada
ISBN: 1897252455
Related Products