Saskatchewan Artist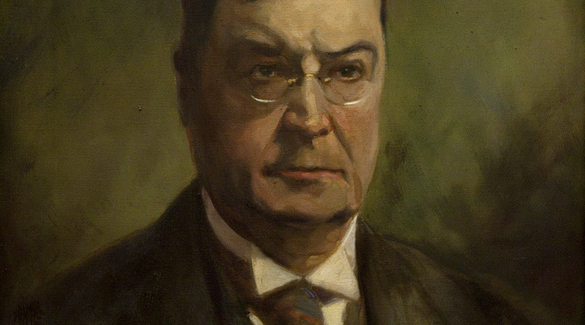 Portrait of Norman MacKenzie - 1936 - by Augustus Kenderdine
Augustus Kenderdine
Born in 1870 in Manchester, England, Augustus (Gus) Kenderdine studied portraiture at the Manchester School of Arts under his godfather, Chevalier de la Fosse, a Belgian-born painter and photographer. In 1891, Kenderdine went to Paris to study at the Academie Juliene with Jules Lefèbvre. After returning to England, he started a business: Gus Kenderdine Photographer and Fine Art Dealer. At that time Kenderdine also joined the Blackpool Sketching Society and exhibited his work in many of their exhibitions. In 1901 and 1902, his paintings were part of the Royal Academy's Annual Summer Exhibition. At this time, Kenderdine's subjects were mostly landscapes of the local area.

In 1908, 38-year-old Kenderdine decided to emigrate with his family to Canada, where they homesteaded near Lashburn, Saskatchewan. His farming and ranching duties took up most of his time for the next several years, until he turned the farming operation over to his son and was able to devote himself to painting. He continued to paint landscapes, now of the dramatic northern Saskatchewan terrain. He also received several portrait commissions.

In 1920, Walter Murray, the first president of the University of Saskatchewan, identified Fine Arts as a priority for the university, and he enlisted Kenderdine in developing this vision. Kenderdine was asked to teach non-credit art classes in a studio space in the Physics Building. In 1933, the first credit art classes were developed, with Kenderdine as instructor. He became Director of the School of Fine Arts at Regina College in 1936. That same year, he established the Summer School of Art at Emma Lake, serving as Director from 1936-1947. These workshops would later be known as the Emma Lake Artists' Workshops, and the Emma Lake Kenderdine Campus was named in his honour.

And in 1937 Kenderdine moved to Regina to help establish the art department at the Regina College (now the University of Regina).

In 1991, the University of Saskatchewan named the Kenderdine Art Gallery in recognition of Kenderdine's legacy. Kenderdine's works are found in numerous collections, including the National Gallery of Canada (Ottawa), the MacKenzie Art Gallery (Regina), the Mendel Art Gallery (Saskatoon), and the Glenbow Museum (Calgary).

Augustus Kenderdine died in 1947 in Regina.
Augustus Kenderdine
Born:

1870. Manchester, England GB

Died:

1947. Regina, SK

Mediums:

Oil Painting
Connect With Us