Saskatchewan Artist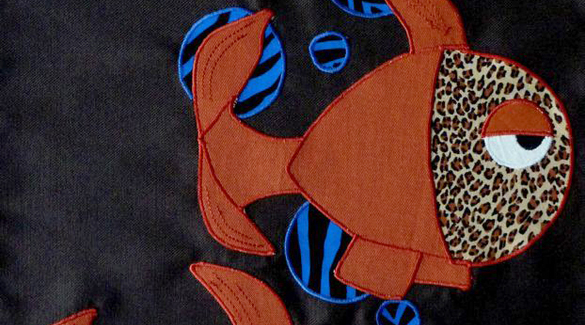 Fish Gone Wild - by Allison Brandt
Allison Brandt
Allison Brandt was born in 1977 in Watrous, Saskatchewan. She studied in Saskatoon at the Academy of Fashion Design (2003-2004) and began sewing in 2004. Her textile work includes clothing, bags, and puppet theatres, among other fabric art. Inspired by the natural environment, Brandt often incorporates recycled fabric into her work.

Brandt's textile work has been shown in several galleries in Saskatchewan, as well as at festivals, stores and craft sales throughout the prairies. Her work was recently a part of the Saskatchewan Craft Council's Waterfront sale (2011). Brandt's work has also appeared in the Gemini-award winning television series Wapos Bay and Melanie Jackson's short film Dancers of the Grass (National Film Board, 2009).

Brandt is a member of the Saskatchewan Craft Council. She lives and works in Bradwell, Saskatchewan, and markets her work under the name Who New Creations.
Allison Brandt
Born:

1977. Watrous, SK

Resides:

Bradwell, SK

Mediums:

Textiles
Connect With Us