Saskatchewan Artist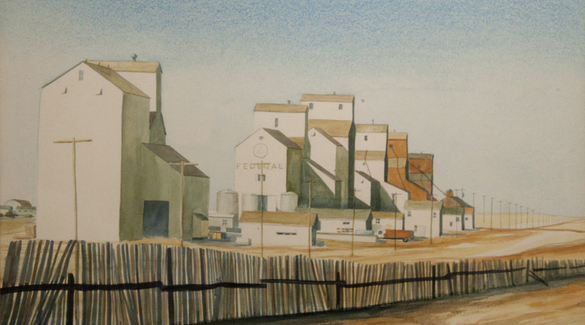 Gravelbourg Elevators - 1981 - by Paul Cloutier
Paul Cloutier
Sylvio Paul Cloutier was born in 1919 in Lafleche, Saskatchewan. He pursued blacksmithing with his father, serving with the Air Force as a blacksmith during WWII. He experimented with painting during this time, creating murals in mess halls and decorating the fuselages of bombers, but he did not begin his formal art education until his return to Canada in 1945, when he enrolled at the Vancouver School of Art (now the Emily Carr Institute of Art + Design).

Cloutier worked in art and advertising at a Kimberley, British Columbia mining and smelting company (1949-1951) and a Swift Current, Saskatchewan general store (1951-1954) before moving to Regina, where he took a position as Director of the Art Department at the Saskatchewan Power Corporation. Cloutier remained in this job until his retirement in 1979. He also taught painting workshops throughout Saskatchewan beginning in 1970.

Once in Regina, Cloutier's lengthy art education with many prominent artists continued. In 1955, he studied under Kenneth Lochhead at the Regina College of Art and went on to attend workshops at Emma Lake with Will Barnet and Joe Plaskett (1957), Bruce Parsons (1958), and Willian Wiley (1973), and at the Banff School of Fine Arts with Ilda Lubane (1970). In 1975, Cloutier studied with Joe Fafard at the Summer School of the Arts in Fort Qu'Appelle, Saskatchewan.

Cloutier painted primarily in acrylic and watercolour and drew inspiration from the fields, skies, and structures of the Saskatchewan landscape. One ambitious project involved painting the grain elevators along highway 11 between Regina and Saskatoon, an endeavor that spanned about 15 years. Cloutier also worked in portraits and was commissioned to paint the official portraits of Saskatchewan's then-premier Ross Thatcher and Lieutenant-Governor R.L. Hanbidge (1969). Over his years of work, Cloutier also provided 106 portraits for the Saskatchewan Sports Hall of Fame and the Saskatchewan Press Club (1971-1992).

Cloutier's paintings have been exhibited in Saskatchewan and Alberta. In addition to his portrait commissions, he received a commission for stained glass work from Regina's Holy Cross Church in 1961.

Sylvio Paul Cloutier died in Moose Jaw, Saskatchewan, in 2013.
Paul Cloutier
Born:

1919. Lefleche, SK

Died:

2013. Moose Jaw, SK

Mediums:

Oil Painting, Watercolour
Connect With Us