Saskatchewan Artist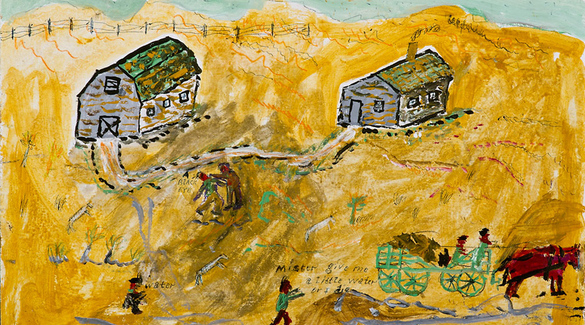 In The 30s - by Frank Cicansky
Frank Cicansky
Frank Cicansky (Czekanski) was born in Humorului, Romania in 1900. In 1926 he emigrated to Canada, and settled in the Dirt Hills area south of Moose Jaw, Saskatchewan. There he farmed and worked as a carpenter and blacksmith. In the mid 1930's Cicansky moved to Regina, working as a blacksmith, and in 1940 he joined the Canadian Army. After the war Cicansky worked in construction in the Regina area, retiring in 1967.

A self-taught artist, Cicansky often worked with wood, including making toys, and in 1970 he took up painting.

As a folk artist, Cicansky worked in a naive style, often creating scenes of his memories and of the hardships of his pioneer neighbours and the immigrant experience.

Cicansky's works appeared in several public exhibitions, including at Regina's Dunlop Art Gallery: "Windmills, Wagons and Railroads" in 1973 which featured works by Cicansky, Fred Moulding and William McCargar, and the 1981 solo show "Aduceri Aminte" (Romanian for "Rememberances"). Having been represented by the Susan Whitney Gallery, in Regina, Cicansky's work can be found in several private collections, as well as the permanent collection of the Saskatchewan Arts Board.

Frank Cicansky's son Victor (born 1935) is an internationally renowned ceramic artist.

Frank Cicansky died in 1982, in Regina.
Frank Cicansky
Born:

1900. Gura Humorului, Bukovina RO

Died:

1982. Regina, SK

Mediums:

Drawing, Oil Painting, Wood Carving
Connect With Us