Saskatchewan Artist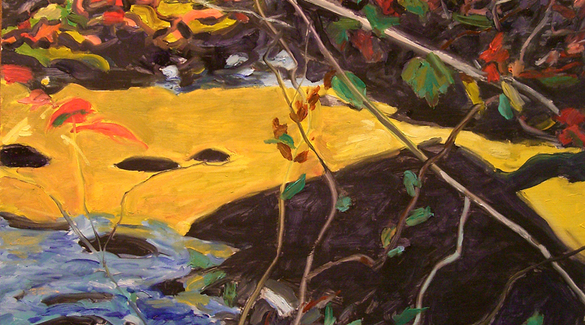 River Colour - 2007 - by Ken Bray
Ken Bray
Ken Bray was born in 1956 in Sydney, Nova Scotia, and began learning to paint at age 10. His formal training began in Regina, Saskatchewan at the University of Regina. Studying under Ted Godwin and Art McKay, Bray received his Bachelor of Fine Arts in 1982. He went on to receive a Master of Fine Arts from York University (1984) and a Bachelor of Art Education from the University of Toronto (1992). Throughout this time and beyond, Bray was himself an art instructor at a variety of institutions, including the University of Regina, York University, the University of Waterloo, Koffler Center of the Arts (Toronto), and for the City of Regina.
Bray's earliest paintings were strongly influenced by his Nova Scotia heritage, and particularly by the fishermen and coal miners who were his ancestors. Other work has drawn inspiration from the prairie landscapes of Saskatchewan's Qu'Appelle Valley, where Bray has spent many summers. Bray's work includes large-scale sculpture, drawings, and paintings. Of his landscape work, Bray writes, "It is my hope that I can reveal something of the essential origin of the land as a means of expressing respect and inciting preservation. Through personal explorations on land and water, my approach to painting allows my sense of a place to be revealed as resonances of memory, recorded images, and painting processes."
Bray's work has been exhibited in numerous solo and group exhibitions across Canada and is held in collections in Canada, the United States, and Europe.
Bray has received awards from Ontario Arts Council, Saskatchewan Arts Board, and Canada Council.
Ken Bray lives and works in Regina, Saskatchewan.
Ken Bray
Born:

1956.

Resides:

Regina, SK

Mediums:

Oil Painting, Sculpture

Website: www.kenbray.ca
Connect With Us