Saskatchewan Artist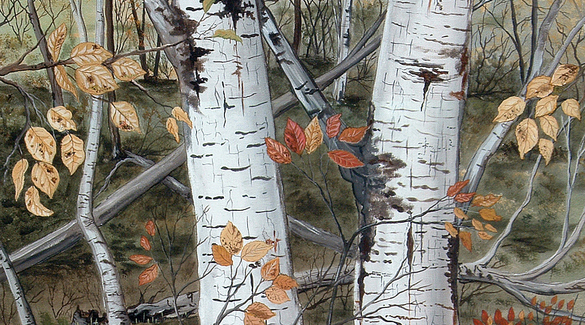 A Walk in the Woods - 2005 - by Jane Bueckert
Jane Bueckert
Jane Bueckert was born in 1961 in Biggar, Saskatchewan, and great up on a farm near Sonningdale. A self-taught artist, Bueckert has been painting since the age of 12, when her mother bought her an oil paint set. She developed her skills while painting for family and friends, and as a teenager, she won first place at the Biggar and District Art Show.

Bueckert's appreciation of the outdoors also began in childhood. Walks in the woods gave her a chance to admire the details of the natural world, and her artwork today reflects this admiration. Bueckert's subject matter includes prairie landscapes as well as the plant life, buildings, and people that can be found there. Working in acrylics, Bueckert creates vivid works that emphasize light and shadow. In addition to her work on canvas, Bueckert has also painted indoor and outdoor murals, including a large historical mural on the town hall in Eyebrow, Saskatchewan.

Bueckert began displaying and selling her art more frequently in 2000. Her work has been exhibited at the Emerald Glass Gallery Art Show (Moose Jaw) and the Sun Dog Show (Saskatoon), among other venues. is part of the collection of the Village of Eyebrow, in addition to private collections.

Bueckert lives and works in Eyebrow, Saskatchewan.