Saskatchewan Artist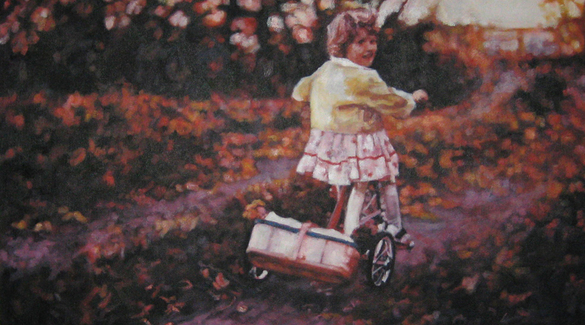 Girl on Tricycle - 2010 - by Liza Gareau Tosh
Liza Gareau Tosh
Liza Gareau Tosh was born in 1973 in Bellevue, Saskatchewan. Of French-Canadian and Métis ancestry, Gareau Tosh was interested in art, particularly drawing, from a young age and was mentored by painter and sculptor Aurore Houle at the age of 14. Gareau Tosh studied at Université Laval in Québec City and at the University of Regina, where she received her Bachelor of Education in 1995. Gareau Tosh went on to receive a Bachelor of Fine Arts from the University of Saskatchewan in 2006. Her arts education has also involved learning from artists such as Michèle Touchette, Marie Balthazar, Joe Fafard, Wilf Perreault, and Ward Schell.
Gareau Tosh's paintings and drawings include portraits, landscapes, and murals, and her work has been exhibited in group and solo shows in Saskatchewan and in Fernie, British Columbia, where she spends her winters. Gareau Tosh has been commissioned to paint numerous large-scale outdoor murals in Saskatchewan towns, including Bellevue, Rosetown, Fiske, and Harris. Her work is part of many private collections and of Saskatchewan Government Insurance.
Gareau Tosh founded Routes Gallery in 2009, in Harris, Saskatchewan. The gallery showcases the work of local and other artists, hosts performances, and provides art education opportunities for the community. Gareau Tosh has been involved in arts education herself as a teacher and workshop instructor in both Saskatchewan and British Columbia.
Gareau Tosh is a member of CARFAC, the Fernie Artist Co-op, Fernie Arts Station, L'Association des artistes fransaskois, and the artists' collective Artx9.
Liza Gareau Tosh lives in Harris, Saskatchewan, and Fernie, British Columbia.