Saskatchewan Artist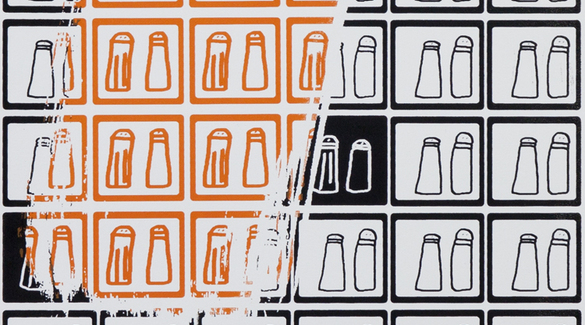 different names for the same thing - 2011 - by Karli Jessup
Karli Jessup
Karli Jessup was born in 1984 in Regina, Saskatchewan. She studied at the University of Regina, where she majored in Print Media and minored in Art History. Jessup completed her Bachelor of Fine Arts in 2011. During her studies, she met fellow artists Michelle Brownridge, Caitlin Mullan, and Amber Dalton, with whom she co-founded the print collective Articulate Ink in 2010.

Jessup's printmaking work has involved a variety of techniques, including screenprinting, linocuts, and letterpress work, and often employs text, including variations on advertising and political slogans. She has exhibited in group exhibitions in Regina and Saskatoon, including an Articulate Ink show at the Dunlop Art Gallery's Sherwood Village branch in 2012. In the fall of 2011, Regina's Hague Gallery held a solo exhibition of Jessup's work.
Jessup, along with the other members of Articulate Ink, has been featured as a Saskatchewan NAC Artist of the Month in 2012.

Karli Jessup lives in Regina, Saskatchewan. She is a director of Articulate Ink.
Karli Jessup
Born:

1984. Regina, SK

Resides:

Regina, SK

Mediums:

Printmaking
Connect With Us