Saskatchewan Artist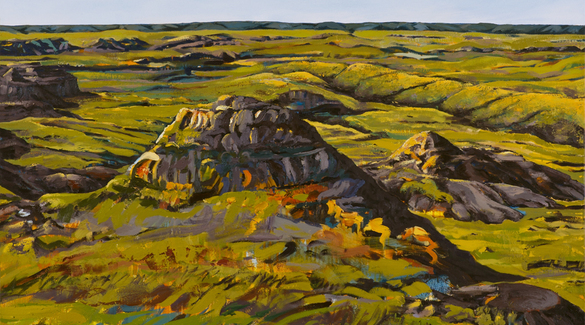 Killdeer Badlands 1 - 2012 - by Diana Chabros
Diana Chabros
Diana Chabros was born in Regina, Saskatchewan, where she became interested in art at an early age. When she was ten years old, Chabros took a community painting class, and during her high school years, she studied with accomplished Saskatchewan artist Wilf Perreault. Chabros went on to attend the University of Regina, receiving her Bachelor of Fine Arts in 1987. There, her influences included Jack Anderson, Jack Cowin, Ted Godwin, Lynn Hughes, Art McKay, Frank Nulf, and Leesa Streifler. Chabros later received her Master of Education degree in 2001.
Though Chabros has pursued other education and experience over the years, including work in real estate, library programming, consulting, art collection and project management, she consistently returns to her artistic practice.
She maintains a studio with an emphasis on painting in oil and water based media. She also paints murals, and recently launched the Sky Story Bed and Breakfast.
Chabros has exhibited her work through solo and group exhibitions in Saskatchewan, and her works are in the collections of the Saskatchewan Arts Board and the Regina Exhibition Association.
Diana Chabros lives in Val Marie, Saskatchewan, near Grasslands National Park.