Saskatchewan Artist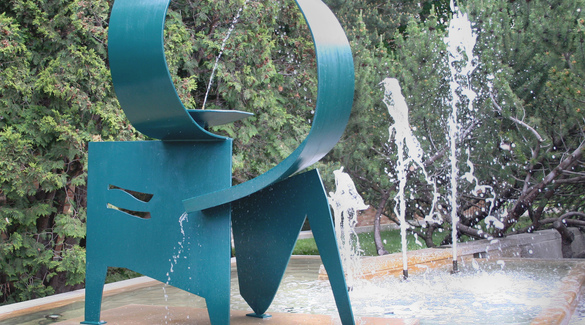 Rainmaker - 1960 - Saskatoon City Hall - by Robert Murray
Robert Murray
Robert Murray was born in 1936 in Vancouver, British Columbia, but grew up in Saskatoon, Saskatchewan. He studied at the Saskatoon Teachers' College with Wynona Mulcaster and Ernest Lindner (1954-1955), and then moved to Regina to study painting and printmaking at the University of Regina, studying with artists such as Roy Kiyooka, Richard Simmons, Arthur McKay and Kenneth Lochhead (1956-1958). He later turned to sculpture, but the influence of these abstract artists can be seen in Murray's abstract steel work.

Murray's art education continued in 1958 at the Instituto Allende in San Miguel de Allende, Mexico. He also attended several artists' workshops at Emma Lake, Saskatchewan with artists including Jack Shadbolt, Will Barnet, Barnett Newman, John Ferren, and Clement Greenberg (1955, 1957, 1959, 1960, 1962). In 1960, Murray moved to New York and there was strongly influenced by Newman.

In 1960, Murray received a commission to create a fountain sculpture for the City of Saskatoon. His work, "Rainmaker," was somewhat controversial due to its abstract, rather than representational nature. Other commissions include sculptures for Long Beach State College (1965), Expo '67 in Montreal (1966), the Department of External Affairs in Ottawa (1972), Wayne State University in Detroit (1974), the University of Massachusetts (1975) and the Federal Court Building in Juneau, Alaska (1978).

Murray's work is represented in collections including the National Gallery of Canada (Ottawa), Canada Council Art Bank (Ottawa), Art Gallery of Vancouver, Art Gallery of Ontario (Toronto), Milwaukee Museum, Montreal Museum of Fine Arts, Saskatchewan Arts Board, New Brunswick Museum of Art, Vassar College (New York), Whitney Museum of American Art (New York), Mendel Art Gallery (Saskatoon), and the Metropolitan Museum of Art (New York), among many others.

Murray has lived in the United States since 1960. He has taught art in New York at Hunter College, (1965-1969), the School of Visual Arts, (1971-1977, 1984), Cornell University (1989), as well as in Pennsylvania and in several Canadian cities. He has also served as artist-in-residence in numerous cities, including Vancouver, New Haven, Halifax, Edmonton, and Winnipeg.

In 1999, the National Gallery of Canada organized a retrospective exhibition entitled "Robert Murray: The Factory Studio." Murray was named to the Order of Canada in 1998. He is a member of the Royal Canadian Academy of Artists.

Robert Murray lives in New York City and teaches there and in Pennsylvania and Delaware.
Robert Murray
Born:

1936. New York City, New York US

Resides:

Vancouver, BC

Mediums:

Drawing, Oil Painting, Sculpture
Connect With Us