Saskatchewan Artist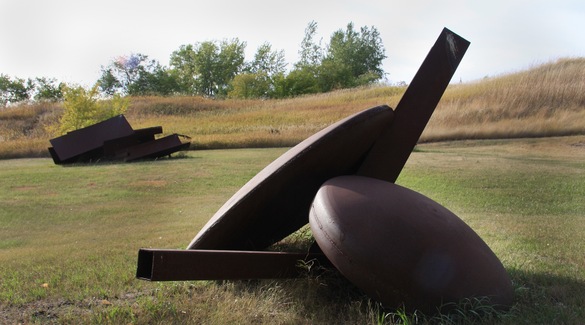 John Nugent Sculpture Garden in 2010 - photo by Jan Novina-Zarzycki
John Nugent
John Nugent was born in 1921 in Montreal, Quebec. He served as a member of the RCMP and in the Canadian Armed Forces in the 1940s. Nugent's visual arts education began when he studied at St. Thomas University and St. John's University in Minnesota (1940-1941; 1947-1948) and apprenticed in sculpture and silversmith work with Donald Humphrey. Later art training came after Nugent moved to Lumsden, Saskatchewan in 1948 and began attending Emma Lake Artists' Workshops in the 1950s and 60s, studying with Jack Shadbolt, Joseph Plaskett, Will Barnet, and Clement Greenberg.

Nugent established a studio and a bronze casting foundry in Lumsden and received numerous commissions in the decades following. Working in bronze and steel, Nugent found that some of his works sparked controversy. In particular, his proposal for a commissioned Louis Riel monument in Regina (1968) although widely praised was deemed too abstract by Premier Ross Thatcher, and Nugent's second proposal for a nude figure was also rejected until Nugent added clothing. The finished sculpture was later removed, in 1991, at the request of the Metis community, which had not been adequately consulted about the piece. Nugent has received numerous commissions from governments, religious organizations, and universities, and his works are installed at the Banff Centre, the National Capital Commission (Ottawa), and the Grain Commission Building (Winnipeg), among other locations. Nugent's sculptures have also appeared in solo and group exhibitions in Saskatchewan and elsewhere in Canada. In 1983, Regina's MacKenzie Art Gallery organized a major touring retrospective.

Of Nugent's work, Timothy Long writes, "The awkward grace of Nugent's steel sculpture, for which he is best known, results from a constructivist collage of prefabricated elements. While often incorporating identifiable parts, such as wheels, his sculpture eludes easy metaphorical readings, instead creating meaning through unexpected combinations of forms and materials."

Nugent taught at the University of Regina beginning in 1969. In the 1990s, Nugent turned from sculpture to photography.

Nugent's sculpture and photographic works are part of many collections including the Saskatchewan Arts Board, MacKenzie Art Gallery, Robert McLaughlin Gallery (Oshawa) Canadian Broadcasting Corporation (Regina), Winnipeg Art Gallery, University of Regina, and the Canada Council Art Bank (Ottawa).
John Nugent died March 12th 2014, in Lumsden, Saskatchewan, at the age of 93.
John Nugent
Born:

1921. Montreal, QC

Died:

2014. Lumsden, SK

Mediums:

Photography, Sculpture
Connect With Us