What Remains
SOLD OUT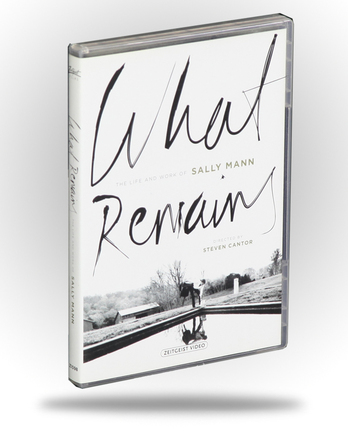 The Life and Work of Sally Mann
DVD - 80 minutes - Widescreen - Released in 2008 - Includes deleted scenes and lecture excerpts
Used - Excellent Condition - Like New
As one of the world's preeminent photographers, Sally Mann creates artwork that challenges viewers' values and moral attitudes. Described by Time magazine as "America's greatest photographer," she first came to international prominence in 1992 with Immediate Family, a series of complex and enigmatic pictures of her three children. What Remains--Mann's recent series on the myriad aspects of death and decay--is the subject of this eponymously titled documentary.
Filmed at her Virginia farm, Mann is surrounded by her husband and now-grown children, and her willingness to reveal her artistic process allows the viewer to gain exclusive entrance to her world. Never one to compromise, she reflects on her own personal feelings about mortality as she continues to examine the boundaries of contemporary art. Spanning five years, What Remains contains unbridled access to the many stages of Mann's work, and is a rare glimpse of an eloquent and brilliant artist.
"One of the most exquisitely intimate portraits not only of an artist's process, but also of a marriage and a life." --The New York Times
"A moving, sensitive portrait... Mann's strong family life and the gorgeous setting of her home in the American South are enviable, but we also witness the ruthlessness and moral enquiry needed to create lasting art." --NOW Magazine
---
Images of used items in the NACstore are always photographs of the actual item being offered.
Related Products