Art 21 - Art in the 21st Century
$29.95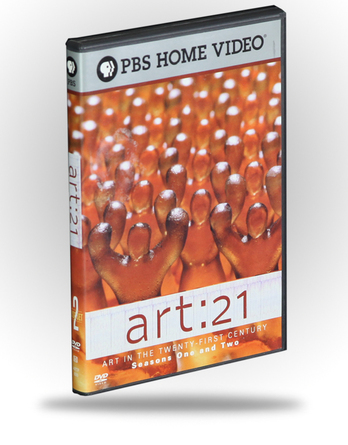 DVD - Seasons One and Two - From PBS Home Video
Released in 2009 (Seasons One and Two, 2003 and 2004) - 7.5 Hours
Used - Excellent Condition
List Price is $52.99
Art:21--Art in the Twenty-First Century Season II" profiles a broad range of emerging and established artists working in the United States today--men and women of varied cultural, religious, and geographic backgrounds--who reflect the diversity of the students in our classrooms, the people in our communities, and the circles of our friends and families. Among the artists featured in this series are painters, photographers, sculptors, and performance and video artists who use a wide variety of media and materials, tools and processes, to create their work. Each one-hour program has been loosely structured around a broad category or theme: Stories, Loss & Desire, Humor and Time.
This release contains the first and second season of PBS' acclaimed documentary, which takes a look into the future at how art will be changing people's lives in the 21st Century. Artists of many fields and levels of establishment are caught in the act of creation and discuss their work, what it means, and what the they are striving for. Hosted by a variety of celebrities, this special look at the state of art at the dawn of a new century focuses on all things artistic.
---
Images of used items in the NACstore are always photographs of the actual item being offered.
Related Products
What Remains
The Life and Work of Sally Mann - DVD
SOLD OUT