Historic Walks of Regina and Moose Jaw
$19.95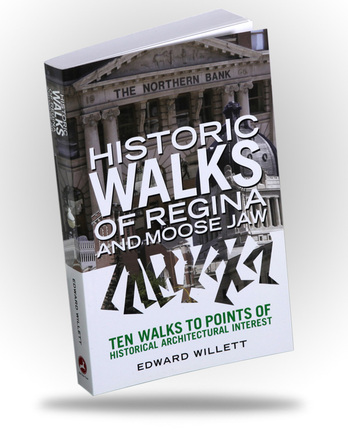 2008, 288 pages
Published by Fitzhenry & Whiteside, Markham, Ontario
A century and a quarter ago, Regina was literally a "Pile O' Bones" and Moose Jaw nothing but a fur traders' camp. Today Regina is Saskatchewan's thriving capital, and Moose Jaw is the province's fourth largest city. Now you can stroll through both cities' sometimes turbulent, sometimes triumphant histories with Historic Walks of Regina and Moose Jaw.
Edward Willett, a Regina writer with a keen interest in history and architecture, points out the buildings and historic sites that have played an important role in the development of these sister cities. You'll get a feel for the way the cities looked in the past, and learn how they've developed into what they are today.
Brimming with historical and architectural information and fascinating anecdotes, and illustrated with dozens of photographs, Historic Walks of Regina and Moose Jaw is an indispensable guide to Saskatchewan's capital and its nearest urban neighbour. So lace up your walking shoes, and take ten historic walks into the rich history of Saskatchewan.
Click here to see the Table of Contents
or here to see a slideshow of Regina Walking Tour Four: The Cathedral Area
Reviews:
"Edward Willett has cobbled together a walking guide that will appeal to history buffs and those with a keen appreciation for architecture. . . Kudos to Willett who recognized those of us living in a concrete jungle appreciate the craftsmanship of the stone masons and bricklayers who left a lasting legacy."
-- Regina Leader Post
Edward Willett is an award-winning author of more than 40 books for children and adults, from fiction to non-fiction. His achievements include winning the 2002 Regina Book Award for his YA novel, Spirit Singer; listing Honours for the VOYA 10th Annual Non-Fiction Awards for his YA biography on J.R.R. Tolkein: Master of Imaginary Worlds; and many more. Born in New Mexico, Bill moved to Weyburn, Saskatchewan when he was eight and is currently living in Regina.
ISBN: 0889953562
NAC Item Number: B0014
Related Products