Achimoona: Native Stories - FRENCH VERSION
$19.95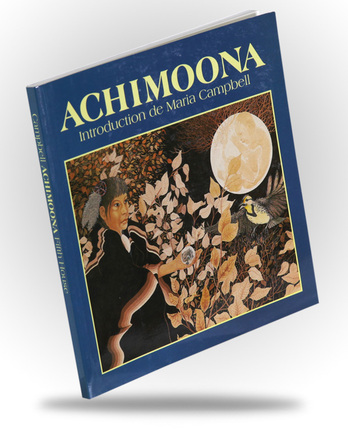 Featuring Saskatchewan Artist(s): Allen Sapp, Gerald McMaster, Michael Lonechild
1999, 98 pages
Published by Fitzhenry & Whiteside, Markham, Ontario
Achimoona, which means "stories" in Cree, is a collection of tales by Native writers for children ages eight and up. These stories are full of magic and music, ranging from realism to fantasy, adventure to allegory, set in the resent but replete with echoes of the past.
In The Hockey Game, a young Native boy boarding with a white family is trying to make sense of the new world in which he finds himself.
Naska, a powerful and poetic story written from the point of view of a northern pike, follows the fish as she hunts the South Saskatchewan River and listens to the tales the water tells her.
In The Pillars of Paclian Chuck takes a strange journey, with an earthworm as his guide, and learns important lessons about the interrelationships between people and nature.
In her introduction, Maria Campbell tells young readers about the changing role of storytellers in Native society, and of their continuing importance as teachers and historians. Conscious of their responsibilities, these writers - Jordan Wheeler, Wes Fineday, Harvey Knight, and others- tell stories for today's children; they are contemporary tales, yet infused with the wisdom of traditional values.
With stories complemented by full-colour reproductions of works by Native artists, including Allen Sapp, Gerald McMaster, Michael Lonechild, and others.
ISBN: 0920079377
NAC Item Number: B0011
Related Products