First in Canada
$24.95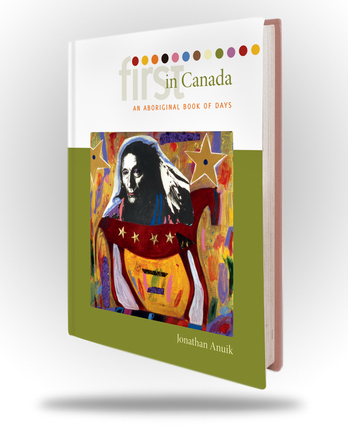 2011, 200 pages, written by Jonathan Aniuk
Published by the Canadian Plains Research Centre, University of Regina
A beautiful schedule book featuring the work of Aboriginal artists along with information about historical and contemporary acheivements of Aboriginal peoples.
First in Canada is a unique expression of the many accomplishments Indigenous Canadians have made to Canadian society. As beautiful as it is informative, this perpetual calendar is a glimpse of 10,000 years in 365 days!

Informative, innovative, and inspirational, First in Canada will take readers through one calendar year of Aboriginal history, providing visuals and details of past and contemporary achievements and challenges of First Nations, Métis and Inuit peoples in Canada. It will appeal to those interested in Canadian history, to high school and university students, and to researchers looking to initiate projects on Aboriginal topics. Attractive and functional, this personal schedule book contains beautiful aboriginal works of art and will serve as a ready reminder of the importance of First Peoples to the ongoing cultural dynamic in Canada. Carefully researched by Jonathan Anuik, First in Canada is the first of its kind.
ISBN: 9780889772403
Related Products