Artist of the Month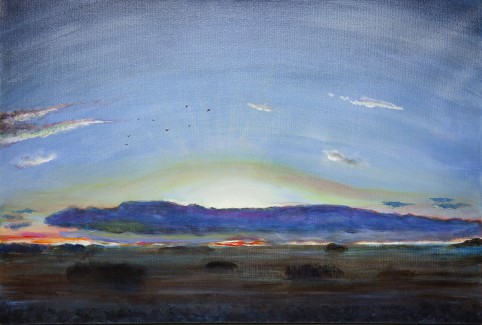 Richard Thatcher
Richard Thatcher was born in Moose Jaw, Saskatchewan in 1946. Richard kept his hand in art making of various kinds while focussing professionally on applied sociology (BA History and Fine Arts, University of Saskatchewan 1967, MA Sociology, U of S 1974, PhD Sociology, University of Alberta, Edmonton 1978) and since semi-retirement has delved more deeply into mixed media abstractions and landscape painting.

Richard has participated in workshops in Canada, USA and France, and has been a member of the Last Mountain Artists' Collective.

Recent solo exhibitions include Living Skies Gallery (Lumsden, Saskatchewan, 2016), Government House (Regina, 2017) and Shurniak Art Gallery (Assiniboia, Saskatchewan, 2017).

Richard lives and works in Craven, Saskatchewan, approximately 30 kilometers northwest of Regina.
Below are some of Richard's works available for purchase through our NACmarket, and an interview with Richard from May 2018. Also, nine of these pieces are currently on display at the Orange Izakaya restaurant in Regina (2136 Robinson Street, Cathedral Area).
NACmarket: Richard Thatcher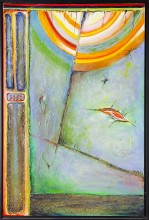 Contemplating Miles Davis's Inspiration from a Mark Rothko Painting
by Richard Thatcher
$485.00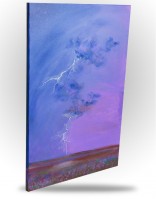 Foreboding Sky
by Richard Thatcher
$385.00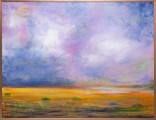 From Atop the Valley
by Richard Thatcher
$745.00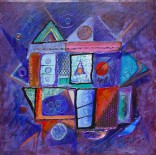 Mixed Media Compostion
by Richard Thatcher
$120.00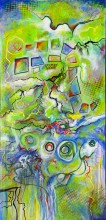 Other Side of the Hill
by Richard Thatcher
$300.00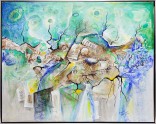 Rockin' in the Garden
by Richard Thatcher
$745.00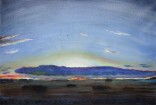 Sky Serpent
by Richard Thatcher
$580.00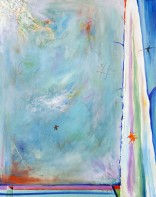 Storm Brewing
by Richard Thatcher
$385.00
Interview
How did you come to be an artist?

I was interested in art from a very young age. It began with obsessive doodling and then blossomed into an abiding preoccupation throughout my life. My art included a year of doing editorial art work and doing paintings and wall reliefs throughout my life. My current semi-retirement has allowed my painting and mixed media work to find much more space and time.

How would you describe your artwork, and the techniques you employ in your paintings?

I work in a variety of themes and categories. I most often work with acrylics but I do an eclectic range of work, that includes mixed media texturing materials and relief wall hangings and stand alone sculptures comprised of found wooden objects and carved wood assembled together and then painted. My themes are roughly categorized, ranging from representational landscapes, waterscapes and skyscapes to portraits, experimental pieces, and purely abstract works, the latter of which are now my preference.
What inspires your art-making?
Nature, especially prairie skies, boreal forest scenes and a wide variety of past and present artists.
What artists (and others) have influenced you?
Picasso, Georgia O'Keefe, Louise Nevelson and several American abstract expressionists, including Paul Jenkins, Mark Rothko and Richard Diebenkorn, inspire me, as does the awe-inspiring work of Canada's Group of Seven. One of my favourite abstract expressionist artists of Canadian vintage was the late Jack Shadbolt. There are also some wonderful living artists in Canada who amaze me and inspire me, including Hyuan Jou Lee, Annabelle Marquis, Sarah Abbot, and Blu Smith, as well as many others. I am a great fan of literally hundreds of artists.
Are there some other Saskatchewan artists whose work you admire?
Three come immediately to mind: Otto Rogers' paintings and the sculptures of Doug Bentham. It is hard not to be inspired by the work of Wilf Perrault, especially his more recent, warm, early evening, urban landscapes. Some of the early sculptural installation pieces of Edward Poitras have knocked me off my feet.

How has living in Saskatchewan influenced your work?
The beauty of the skies, the soulful loneliness of the prairie horizon and the mystery and variant landscapes of the boreal forest in the north have all been part of my life and have and will always be an influence on my art.

What are the worst and the best parts of being an artist?
The best part is simply doing the work and enjoying it later on, then sharing it. The worst of it is the rather insular, clique-like nature of the art community in Saskatchewan. Outsiders can simply not feel welcome and this creates real challenges regarding the sharing of one's work.
Richard Thatcher
Born:

1946. Moose Jaw, SK

Mediums:

Acrylic, Mixed Media
Past Artists of the Month
Connect With Us