Artist of the Month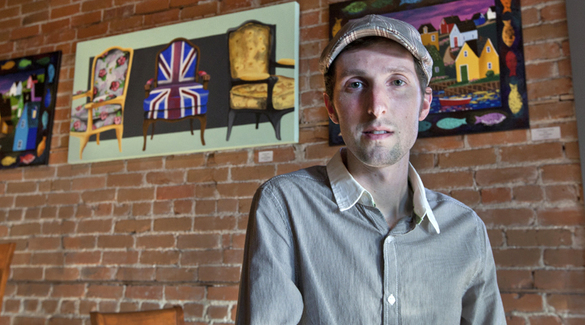 Andrew Meredith at his August exhibition at Java Express
Andrew Meredith
Saskatchewan NAC is pleased to feature Moose Jaw painter Andrew Meredith as our August 2012 Artist of the Month. Andrew, who returned to Moose Jaw in 2011 after spending a year back in his childhood hometown in Nova Scotia, paints in a variety of styles, including a colourful folk style especially suited to his east coast memories.

Andrew was born in Great Village, Nova Scotia in 1983, and found his passion for art-making early — surrounded by the colours and characters of the east coast Andrew began painting as a child. He moved to Coronach, Saskatchewan with his family in 2000, and soon after to Moose Jaw. Andrew now divides his time between Nova Scotia and Saskatchewan.
NACmarket: Andrew Meredith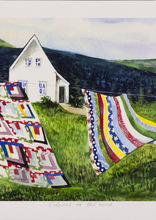 Colours of the Wind
limited edition print by Andrew Meredith
$42.00
Interview
How did you come to be an artist?
It all started when I was five or six — my grandmother would paint and draw flowers and birds, and seeing the artwork around my grandparents' home gave me the inspiration to want to do the same. And my first few years of school were also key in me becoming an artist — at the time arts and crafts activities were another way for me to be creative. Sometimes before I would go to school I would wake up early in the mornings while most of my family would still be sleeping, so I could do art stuff.
How would you describe your work?
I say I'm an artist of many mediums, making my art with watercolours, acrylics and sometimes oils, and over the years I've practiced many styles of artwork. My style at times can be very serious, and other times it can be fun and colourful.
How has living in Moose Jaw (and spending time away from Moose Jaw) shaped you as a artist?
In 2002 my family and I moved out west from Nova Scotia. I was happy for the change. I did my last year of high school in Coronach, Saskatchewan, where my dad was working at the time. After I graduated in 2003 I moved to Moose Jaw and got a part time job. At that time, in my life art was just something I did for fun when I had time for it, and I really didn't know that in a few years I would be making artwork part of my income.
I had my first art show in 2006 in the town of Assiniboia, facilitated by my art teacher from the Coronach high school. That art show is how it all started. Now I've done lots of art in Moose Jaw over the years and have had many art shows. In 2010 I made a move back to Nova Scotia to do art full time and to market my art there. My goal was to get my artwork into as many shops and galleries that I could. But as it was coming to the end of summer in 2011, I started to miss my old life and routine in Moose Jaw. I know now that my life is out west — it's home for me. I will say that going back to Nova Scotia opened a lot of doors for me and my artwork. I still have lots going on in Nova Scotia with my art, and I sometimes wish I could be in two places at once. So I'm back in Moose Jaw and I'm painting lots — I try to paint most days.
What artists and others have influenced you?
When I was a bit younger there was a local artist who taught me how to paint with watercolours — I didn't know it at the time, but I was learning one of the hardest mediums there is! But watercolour was very easy for me to learn, I guess I was lucky in that way. Something I've never mentioned is how much objects have in inspired me, one of them being Royal Doulton Figurines — in ways I think of them as 3D watercolours. Artists who have influenced me would include Maud Lewis, Allen Sapp, the Group of Seven, David Thauberger, Wilf Perreault, and Helen Beatrix Potter.
How did you start creating paintings in your particular style?
I was thinking back that when I was a kid I never cared for Folk Art, Impressionism & Abstract Art. For the longest time I really just liked Realism. When my mom and dad would take me to art galleries I would always search for paintings that were Realism. And for many years I tried so hard to make my painting look realistic. I would go through so much paper until I would get something to look right. But I think it was grade 11 when I started learning more about art history, the Group of Seven, Monet and others, and it was then that I stared to have a love for other styles in art.
It wasn't until 2007 when I started to find my own style. I remember that time well because I was trying different styles in folk art, and since then I've been best known for my east cost fishing villages with a fish border, and I do believe that to be my style. I still will do paintings of flowers and other stuff, but my folk art is what I like being known for.
What have you found to be the best and the worst parts of being an artist?
Let's start with the good stuff first: Sometimes when I'm painting I will think to myself. Where will this piece of art end up? I like the idea that a little piece of me is in each of my works of art, that in some way my artwork will outlast me. And I also love when someone tells me how much my artwork makes them feel good, or makes them think of a moment in their own lives. Some of the downsides of being a artist for me is that it's not always constant, it's not like a 9-to-5 job. Sometimes I put more time into something than I get out of it, but it's what I love doing.
Andrew Meredith
Born:

1983. Great Village, NS

Resides:

Moose Jaw, SK

Mediums:

Acrylic, Oil Painting, Watercolour
Past Artists of the Month
Connect With Us