Saskatchewan Artist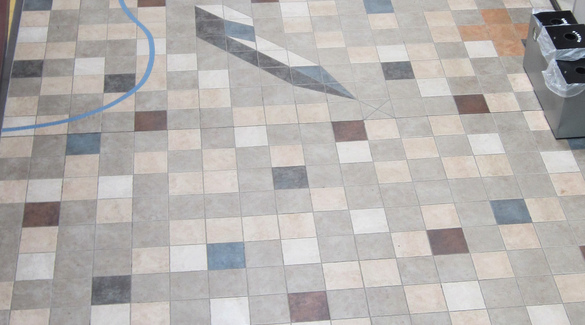 University Centre Floor - 1997 - by Lorne Beug-
Lorne Beug
Lorne Beug was born in Regina, Saskatchewan in 1948. After receiving a degree in anthropology and psychology from the University of Regina in 1969, Beug began studying ceramics at the same institution in 1972, under such instructors as Joe Fafard and Marilyn Levine. Beug's earlier academic history is an important influence on his work, which draws on themes of history, urban life, and prairie landscape.

Beug moved to Vancouver in 1978 to teach ceramics at the Burnaby Arts Centre and the Outreach Program at Emily Carr College of Art and Design. When he returned to Regina in 1983, Beug had become interested in combining ceramics with other materials, and has since worked in photo collage, faux marbling, mosaic mapping, and mixed-media sculpture.

Beug has received several commissions, including a ceramic mural for the City of Regina Field House ("Patterned Ground," 1987) and a tile floor for the University of Regina's Riddell Centre (1996).

Beug's work is part of many public and corporate collections, including those of the MacKenzie Art Gallery (Regina), Mendel Art Gallery (Saskatoon), Canada Council Art Bank, Glenbow Museum (Calgary), University of Calgary, McMillan Binch (Toronto), Esso Canada Resources, Royal Bank, and Memorial University (St. John's).

Beug lives and works in Regina, Saskatchewan.