Saskatchewan Artist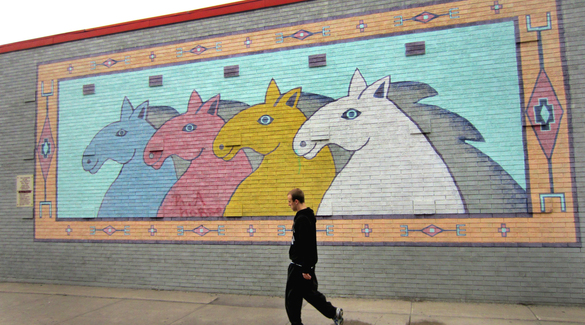 The Carousel of Life - 1996 - by Bob Boyer
Bob Boyer
Bob Boyer was born in 1948 in Prince Albert, Saskatchewan. He attended the University of Saskatchewan's Regina Campus and earned a Bachelor of Education (Art) degree in 1971. He then worked in a number of education, art, and community positions, including as an art and drama instructor in Prince Albert (1971-1973), a community program officer and curator at the MacKenzie Art Gallery in Regina (1973-1975), and a personnel officer at the Department of Northern Development and Planning in La Ronge.

Boyer became an Assistant Professor at the Saskatchewan Indian Federated College (now First Nations University of Canada) in Regina in 1978, and two years later became the Head of the Department of Indian Fine Arts. He served in this position until 1998, and then again beginning in 2004. Boyer continued to teach art and art history there until his death in 2004.

Boyer began his career painting portraits and landscapes, but he is perhaps most well known for his painted blankets. He was inspired to attempt this art form after a trip to China and Japan in 1983, during which he saw cloth banners conveying political messages. Boyer used his blankets to paint images that comment on Native history in Canada, addressing colonialism, environmental destruction, and Native culture. Boyer referred to these pieces—which incorporate geometric forms from Plains First Nations beadwork—as "blanket statements." As a Métis artist, Boyer's interest in these issues went beyond his own art, as he advocated for increased recognition of Aboriginal artists, including through the Society of Canadian Artists of Native Ancestry (SCANA). He also highlighted Aboriginal artists in his role as a curator at the MacKenzie Art Gallery (Regina) with exhibitions such as "100 Years of Saskatchewan Indian Art, 1830-1930," and "Kiskayetum: Allen Sapp, a Retrospective."

Boyer's own work has been exhibited across Canada and internationally, including through two traveling exhibitions of the Canadian Museum of Civilization: "In the Shadow of the Sun" (1988-1991) and "INDIGENA: Perspectives of Indigenous Peoples of Five Hundred Years" (1992-1995). Boyer received numerous commissions, including for the Department of Indian and Northern Affairs (1984), Sky Dome Corp. (Toronto, 1990), the Albert Library in Regina (1990), and the Royal Saskatchewan Museum (Regina, 1992). His work is represented in many major collections, including the Canada Council Art Bank (Ottawa), National Gallery of Canada (Ottawa), Saskatchewan Arts Board, Winnipeg Art Gallery, University of Saskatchewan, MacKenzie Art Gallery (Regina), Mendel Art Gallery (Saskatoon), Canadian Broadcasting Corporation (Regina), Department of Indian and Northern Affairs (Ottawa), and the Native Canadian Centre of Toronto, among many others.

In 2008, the MacKenzie Art Gallery in Regina organized a touring retrospective of Boyer's work entitled "Bob Boyer: His Life's Work." A virtual exhibition of this retrospective is available online at the Virtual Museum of Canada.

Bob Boyer was living in Rouleau Saskatchewan when he died while traveling in the United States in 2004.
Bob Boyer
Born:

1948. Prince Albert, SK

Died:

2004. Rouleau, SK

Mediums:

Murals, Oil Painting
Connect With Us