Saskatchewan Artist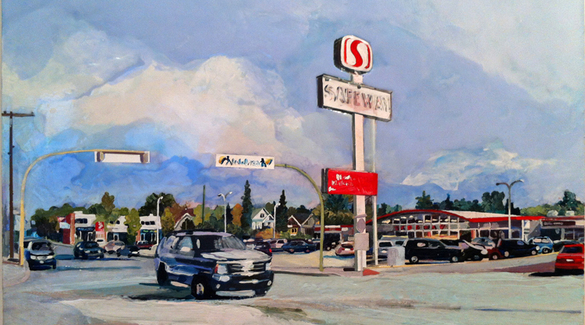 13th Ave. Safeway - 2012 - by Heather M. Cline
Heather M. Cline
Heather M. Cline was born in 1970, in Saskatoon, Saskatchewan. She grew up in the small community of Sutherland as it was being annexed by the city of Saskatoon, and the relationship between past and present of prairie towns and cities plays an important role in her art making.
Cline achieved a Bachelor of Fine Arts (1993) and a Master of Fine Arts (2001) at the University of Saskatchewan, in Saskatoon.
From 2006 to 2008 Cline wrote and hosted a series of videos for educational broadcaster Saskatchewan Communications Network entitled Art Inclined, profiling guest artists and their processes of art making.
Cline has participated in many group shows, while individual shows include A-Z (2002, Mendel Art Gallery in Saskatoon, and tour), Progress (2008, Mysteria Gallery, Regina), Populating Venduta (2009, Art Gallery of Regina) and The Office of Identity Collection (2012, Robert McLaughlin Gallery, Oshawa ON).
Cline's work can be found in the permanent collections of the University of Saskatchewan, Saskatchewan Arts Board, Mendel Art Gallery, City of Regina, Saskatchewan Legislature Building, SaskPower, and the Colart Collection.
Heather Cline lives and works in Regina, Saskatchewan.
You can learn more about Heather Cline and her projects at her blogs including: The Office of Identity Collection http://toicoshawa.blogspot.ca. 100Sasksymbols: http://100sasksymbols.blogspot.ca/ and Heather Cline presents Robincam: http://heatherclinepresentsrobincam.blogspot.ca/
Heather M. Cline
Born:

1970. Saskatoon, SK

Resides:

Regina, SK

Mediums:

Acrylic, Drawing, Installations, Printmaking
Connect With Us