Saskatchewan Artist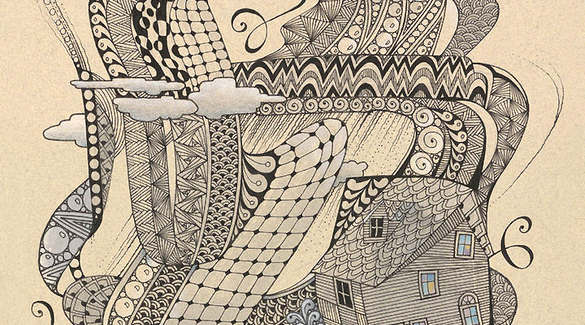 Shelter from the Storm - 2010 - by Margaret Bremner
Margaret Bremner
Margaret Bremner was born in 1954 in Toronto, Ontario. She studied at the University of Saskatchewan, receiving her Bachelor of Fine Arts in 1977. Bremner has taken further studies in coloured pencil drawing with Alison Fagan in Ottawa and has studied Zentangle, a drawing technique, becoming a certified teacher in 2010.

Bremner's intricate, patterned work includes Zentangle-inspired pen-and-ink drawings, and mandalas, mainly in acrylic. Her interests in colour, detail, symbolism, and spirituality influence her work; she writes, "I have always loved detail and patterns, sparkle and whimsy... I draw on sources from around the globe and explore many visual elements that interest me such as colour, detail, and geometry."

Bremner has exhibited in solo and group shows in Ontario, Quebec, and Saskatchewan. She has also been commissioned to create a variety of book covers, CD album covers, and t-shirt designs. Her work is in numerous private collections as well as the collections of the Canadian Catholic Conference and the Canadian Cancer Society.

Bremner teaches drawing classes and workshops and runs an art blog, enthusiasticartist.blogspot.com. She has presented a number of talks about mandala work and has written articles about art and spirituality for several magazines. She is a member of CARFAC.

Margaret Bremner lives in Saskatoon, Saskatchewan.
Margaret Bremner
Born:

1954. Toronto, ON

Resides:

Saskatoon, SK

Mediums:

Acrylic, Drawing, Mixed Media
Connect With Us