Saskatchewan Artist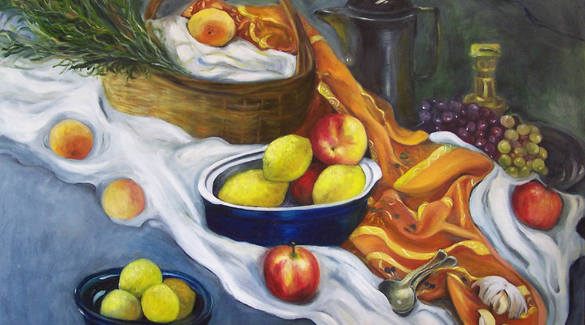 Picnic for Cezanne - by Antoinette Herivel
Antoinette Herivel
Antoinette Herivel was born in 1943 in Shipley, England. She trained to be a teacher and studied painting at London's Southlands College (1961-1964) and intended to teach and live in her parents' home island of Jersey. However, when she took a two-year teaching position in Canada in 1967, Herivel ended up settling permanently in Regina, Saskatchewan to continue her career and build her family.

Herivel taught at elementary and high schools in Saskatchewan while pursuing her own artistic practice. She attended the Saskatchewan Summer School of the Arts (1977, 1978) and studied painting and drawing at the University of Regina, receiving a Bachelor of Fine Arts in 1986 and a Master of Education in 1996. In 2001, she traveled to Italy and Greece and studied painting, drawing, and art history at the Aegean Center for the Fine Arts. Herivel has continued to be involved with children's art education, serving as artist-in-residence at elementary schools and taking part in Regina's Artist in the School program. She also taught as a sessional lecturer at the University of Regina until 2009.

Herivel's work in oil painting, drawing, and mixed-media collage explores history, memory, women's experience and domestic routine, imagination, and biography. She sees all of this diverse work as being connected by her emphasis on narrative. Recent work has included an exploration of life in her parents' home island of Jersey during the Nazi occupation of World War II ("Fragmented," 2010).

Herivel's work has been exhibited in solo and group exhibitions in Canada and the United States and particularly in Saskatchewan. Collections in which her work can be found include the Saskatchewan Arts Board, Canada Council Art Bank (Ottawa), City of Regina, Saskatchewan Department of Education, H.R.H. Prince Edward, and other public and private collections in Canada and Great Britain.

Herivel's involvement in the arts community has continued through work with children's theatre, designing learning activities for arts education website ArtSask, and participation in arts organizations, including CARFAC, through which she has served as a mentor for emerging artists.

After many years in Regina, Saskatchewan, Antoinette Herivel recently moved to Gabriola Island, British Columbia.