Saskatchewan Artist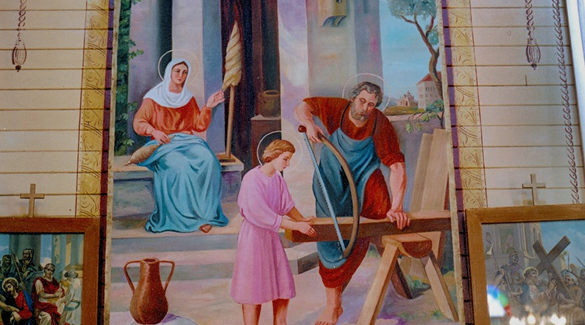 Holy Family - St. John the Baptist Ukrainian Catholic Church, Arran, SK - by Theodore Baran - photo by Sterling Demchinsky
Theodore Baran
Theodore Baran was born in 1911 in Janczyn, Ukraine. He studied art there from 1925 to 1929, completed two years of studies in law, and then returned to art at Studite University, where he studied ecclesiastical art and the painting, ornamentation and iconography of the Byzantine Church. After working as a junior high teacher in the Ukraine and as an administrator for a refugee organization in Germany, Baran came to Canada in 1949.

Settling in Saskatoon, Saskatchewan, Baran embarked on a long and prolific career as a church artist and educator. His involvement with various churches and organizations included providing tours of the Saskatoon Cathedral, working with the Catholic Brotherhood, contributing to Ukrainian newspapers and publications on Ukrainian Catholic history, and serving as president of the Ukrainian Catholic Council of Canada, which led him to greet Pope John Paul II on behalf of Ukrainian Catholic Canadians in 1984.

As an artist, Baran created religious paintings in oils and gold leaf in more than 70 churches in Canada and the United States. These commissioned works, many of them large-scale murals, blend Canadian and traditional Ukrainian features. Two of Baran's works are part of the permanent collection of the Canadian Museum of Civilization in Hull, Quebec.

In addition to his involvement in Ukrainian organizations, Baran was active in organizations including the Winnipeg Cultural Education Centre, the Mendel Art Gallery, the Saskatoon Bridge Club, and the Canadian Wildlife Federation.

Baran received numerous honours for his work, including recognitions from Ukrainian organizations and the "Pro Ecclesia et Pontifice" medal from Rome (1976).

Theodore Baran passed away in 1995 in Saskatoon.
Theodore Baran
Born:

1911.

Died:

1995.

Mediums:

Murals, Oil Painting
Connect With Us