Saskatchewan Artist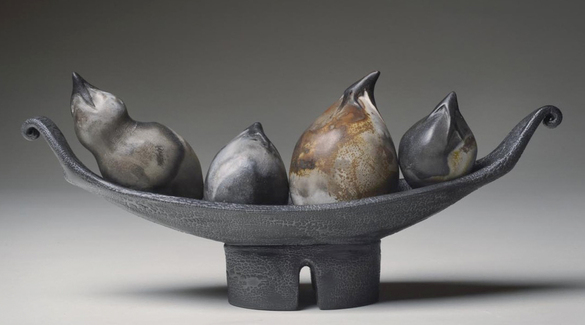 Quartetto - 2009 - by Paula Cooley - photo by Grant Kernan
Paula Cooley
Paula Cooley was born in 1959 in Brantford, Ontario. She first studied English and Psychology, receiving a Bachelor of Arts from the University of Waterloo in 1985. After moving to Saskatoon, Saskatchewan, in 1989, she took a pottery class and discovered her passion for the art form and began studying ceramics at the Saskatchewan Institute of Applied Sciences and Technology in Prince Albert, Saskatchewan. Cooley has been a practicing potter since 1999, the same year she received her ceramist diploma. Since then she has continued to train through the CARFAC Saskatchewan mentorship program (with Alicia Popoff in 2002 and with Anita Rocamora in 2010) and has completed a Bachelor of Fine Arts at the University of Saskatchewan (2010). In addition to her own practice, Cooley has taught pottery classes through the Saskatchewan Potters' Guild and has participated in the Medalta International Artists in Residence in Medicine Hat, Alberta (2011).

Cooley incorporates a variety of techniques into her work, including hand building and wheel throwing, low- and high-temperature kiln firing, and using different combinations of glaze and paint—including, at times, no glaze at all. Her pieces include both sculptural and functional clay works, and she is inspired by natural forms. Cooley says, "Initially I was interested in functional pottery but over time I have become increasingly intrigued by sculptural vessels. For me, the way a vessel shapes space now takes precedence over its function. The suggestion of movement and growth is key to my current ceramic work: I want my pieces to look as if they might dance or grow."

Cooley's work has been shown in numerous group and solo exhibitions since 1999, and has frequently been a part of the Saskatchewan Craft Council's touring exhibition "Dimensions." In 2009, one of her sculptures was displayed at the Canadian Crafts Federation's "Unity and Diversity" exhibition at the Cheoungju International Biennale in South Korea. Cooley's work is represented in several collections, including the Saskatchewan Arts Board, Gordon Snelgrove Gallery (Saskatoon), Town of Battleford, SIAST Woodland Campus, and the Mann Art Gallery (Prince Albert).

Cooley has been actively involved with numerous arts organizations, including CARFAC Saskatchewan, the Alberta Potters' Association, Sask Terra, Saskatoon Potters' Guild, and the Saskatchewan Craft Council. She has won numerous awards for her work, including from the Saskatchewan Craft Council and the Saskatoon Potters' Guild.

Paula Cooley lives and works in Saskatoon, Saskatchewan.
Paula Cooley
Born:

1959. Brantford, ON

Resides:

Saskatoon, SK

Mediums:

Ceramics, Sculpture

Website: www.paulacooley.com
Connect With Us