Saskatchewan Artist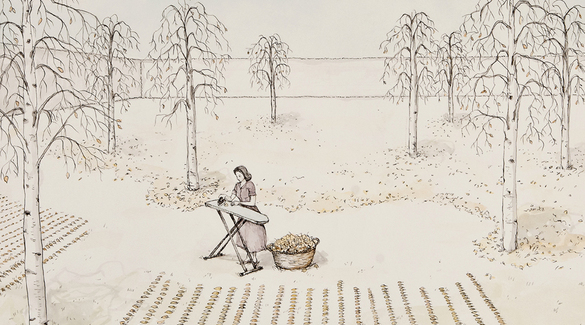 Impressive - 2011 - by Lindsay Arnold
Lindsay Arnold
Lindsay Arnold was born in 1974 in Rugby, North Dakota, USA, but moved to Canada as a baby. She returned to the USA for her art education, which began with private watercolour and drawing lessons with Rosemary Koster in Flaxton, North Dakota in 1990. In 1993, Arnold took one year of courses towards a Bachelor of Fine Arts degree at the Minot State University; she later moved to Canada and worked as the poster artist for the Athletes Department at the Southern Alberta Institute of Technology before graduating from the Cinema, Television, Stage and Radio Broadcast Journalism program at the same institution. Arnold has also taken part in numerous artist retreats, private lessons, and mentorships.

Arnold's pen, ink, and watercolour drawings focus on identity and distress in a humorous manner: "My work explores society's struggles with identity, fear, and perceived expectations of self. My allegorical drawings and book works offer dark, yet humorous, fables about our erred ways of coping with stress, while presenting the concept of dysfunction as a family of cultural tradition." Her work has been exhibited in both solo and group exhibitions throughout Saskatchewan and is part of the NWMP Map Project and the collection of the Estevan Art Gallery & Museum.

Arnold has been active in her local art community, serving as facilitator for 'The Grand View' Community Art project in North Portal (2004), as Gallery Educator at the Estevan Art Gallery and Museum (2006-2007), and currently, as an organizer for The Visions Art Guild Artist Retreat in North Portal. Arnold has been organizing for this yearly event since 2005.

Lindsay Arnold currently resides in North Portal, Saskatchewan, where her studio is located in her former elementary school.
Lindsay Arnold
Born:

1974. Rugby, North Dakota US

Resides:

North Portal, SK

Mediums:

Drawing, Mixed Media, Watercolour

Website: http://lindsayarnold.ca/
Connect With Us