Saskatchewan Artist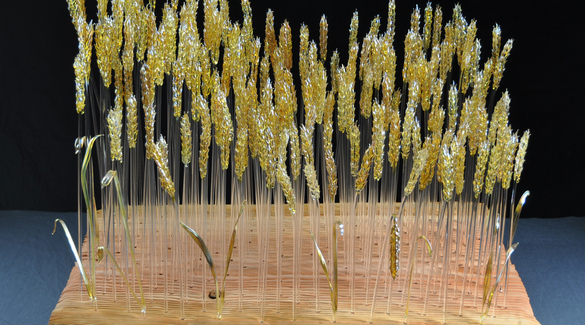 Mini Wheatfield - 2010 - by Jacqueline Berting
Jacqueline Berting
Jacqueline Berting was born on August 19 in 1967, in St. Gregor Saskatchewan. She received her Applied Arts Diploma from Red Deer College in 1987 and then studied at the Sheridan College of Art and Crafts in Oakville, Ontario, where she majored in glass. Berting also attended Penland School of Craft and Design in North Carolina, where she earned her Iron Sculpture and Blacksmithing Certificate (1990). She has led glass blowing classes herself at Sheridan College (1989) and taught weekend courses in glass blowing from 1997 to 2005.

Berting's glass work include glass wheat, seasonal ornaments, framed glass flowers, and blown glass. One of her best-known works, "Glass Wheatfield," is an installation consisting of 1400 waist-high hand-cut glass stalks in a 36-square metre field. Berting has exhibited in Saskatchewan and Ontario, including at the Paperweight Show at the Royal Ontario Museum in 2007. She has also shown her work with the Saskatchewan Craft Council. Collections in which Berting's work is represented include the University of Regina, Regina Plains Museum, the Legislative Assembly of Nunavut (Iqaluit), and Weyburn City Hall, among others.

Berting's work has appeared in Western Living magazine (2004) and the Encyclopedia of Saskatchewan.

Berting has received numerous awards, including Saskatchewan's Centennial Medal of Honour (2005) and the Ontario Craft Council's Outstanding Achievement Award (1989). She has served on the board of directors of the Glass Association of Canada.

Jacqueline Berting lives in Cupar, Saskatchewan, where she and husband James Clark create glass and other works from their shop, Berting Glass.
Several artworks by Jacqueline Berting are available for purchase through Saskatchewan NAC's online NACmarket.
Jacqueline Berting
Born:

1967. St. Gregor, SK

Resides:

Cupar, SK

Mediums:

Glass, Installations, Sculpture
Connect With Us