Saskatchewan Artist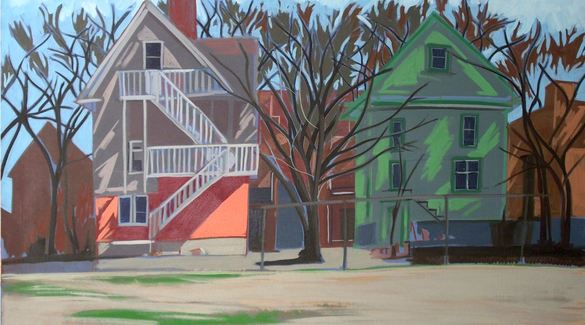 Fire Escape - 2011 - by Michael Bromley
Michael Bromley
Michael Bromley was born in 1955 in Darjeeling, India. After living in the Himalayas and West Bengal, he moved with his family first to England and then to Canada. Settling in Moose Jaw, Bromley's father was a doctor and his mother, a high school art teacher. Bromley studied printmaking at the University of Regina, completing his Bachelor of Fine Arts in 1985. He then became involved with computer graphics, and has been called a pioneer in using the computer to create fine art.

Bromley now works in oils on canvas. Influenced by artists including Cezanne, Picasso, and Matisse, Bromley sometimes works from photographs and tends to paint environments he is familiar with: "I paint my world; the street, out the kitchen window, the mall parking lot, a row of houses. Everything that I have seen — order, design, drama in my everyday life." Bromley has exhibited his work in Regina, Winnipeg, and Vancouver.

Michael Bromley is an active member of the Federation of Canadian Artists, and lives in Regina, Saskatchewan.
He is NAC's December 2012 Artist of the Month, and several Michael Bromley artworks are available for purchase.
Michael Bromley
Born:

1955. Darjeeling, West Bengal IN

Resides:

Regina, SK

Mediums:

Oil Painting

Website: http://mebromley.com/
Connect With Us