Saskatchewan Artist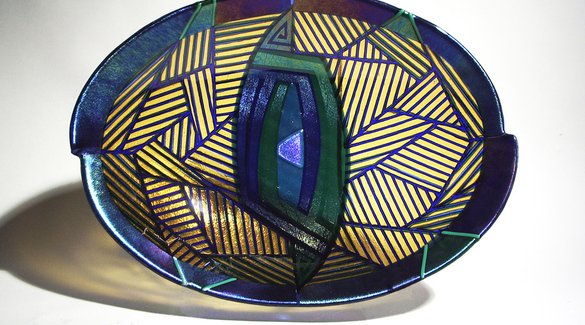 Under the Spruce - by Lee Brady
Lee Brady
Lee Brady was born in 1949 in Calgary, Alberta. He studied in Saskatoon at the University of Saskatchewan, receiving a Bachelor of Fine Arts in 1977. Since, he has continued his professional development through workshops in a number of glass techniques. In 1980, he opened Glass Eye Studio in Saskatoon.

Brady's work, which includes stained glass and fused sculptural glass, has been shown in numerous exhibitions in Canada as well as in a curated 1993 show called "Selected Treasures," which exhibited in Taiwan, Tokyo, Hong Kong, Chicago, and Washington, DC. His work has also appeared in group exhibitions in Oregon and New York, as well as many Canadian locations.

In reflecting on his work, Brady writes, "Color and construction have dominated my life....Discovering the pure colors alive in glass was a revelation - colors that can institute, saturate and glow - colours that can shift throughout the day and change intensities throughout the seasons....My design work evolves like a conversation with a friend. I initiate the idea. The form, colour and texture suggests a mood or application, or they challenge their role within the design. I listen, learn and reply with care." Most recently, Brady has focused on "intricate surface treatments on large bowl forms."

Among the honours Brady has received are awards from the Saskatchewan Craft Council's Dimensions show, including an Active Member Award, numerous Merit Awards and Excellence in Glass Awards, and in 1993, the Premier's Prize. In 2010, he received the Saskatchewan Artist Award at the Lieutenant Governor's Awards for the Arts.

Brady has been involved in many parts of the province's arts community, and most notably was a founding member of the Saskatoon Glassworkers' Guild and of the Saskatchewan Craft Council. He has continued to be involved over many decades as a volunteer juror, board member, and committee member.

Lee Brady lives in Saskatoon, Saskatchewa, where since 1998 he has taught courses in glass fusion at the University of Saskatchewan.