Saskatchewan Artist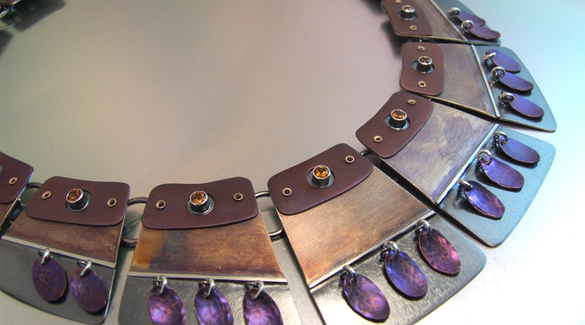 Luxor Collar - 2010 - by Melody Armstrong
Melody Armstrong
Melody Armstrong was born in Regina, Saskatchewan in 1965. She studied Jewellery and Metal at the Alberta College of Art and Design, in Calgary, Alberta, and completed her Bachelor of Fine Arts in 1999.

Armstrong works with gold, silver, titanium, and stones, and incorporates paint into her work. She describes her style as "Industrial-Organic," and writes, "My jewellery is born through a diligent creative process of vision, design rendering, and then using my metalsmithing skills to form and manipulate the materials into my desired intention. My objective is to create intimate objects that offer a compelling reason for others to enter into the investigative realm. The scale of the jewellery is well suited for this pursuit, allowing me to build precious forms to draw one near, engendering intimate interactions."

Armstrong's works have been shown in group and solo exhibitions in Saskatchewan and have appeared in publications such as Art Jewelry Today (2 and 3).

Armstrong is a member with several arts organizations, including the Saskatchewan Craft Council, the Metal Arts Guild of Canada, the Society of North American Goldsmiths, the Art Gallery of Regina, and Crafthaus. She has received an Independent Artists Grant from the Saskatchewan Arts Board in 2010, and in 2011 won a merit award from the Saskatchewan Craft Council.

Armstrong lives in Regina, Saskatchewan, where she works from her studio and is a jewellery instructor and artist-in-residence at the Neil Balkwill Civic Arts Centre.